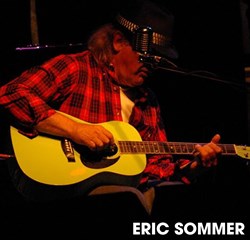 This was a joy to watch... I wanted to jump up and shout!!
Ron Melton
Music Express
Bloomington, IN (PRWEB) April 18, 2013
Eric Sommer is coming to Bloomington, Indiana.
Join The Bloomington Songwriter's Showcase in Bloomington Indiana on Monday, April 22 as they welcome national touring singer, songwriter and guitar player extraordinaire Eric Sommer to this very special and popular event.
One would think that someone like Eric Sommer, with so many accolades, national tours, concerts and live shows under his belt would be content to sit home and let the audiences come to him. Not so. Mr. Sommer is one of the hardest working performers on the road today, doing around 280 shows a year all around the USA and Europe.
And when Mr. Sommer travels, he always tries to stop in for local songwriter meetings, open stage events, in-store demos and music store clinics, which brings him to Bloomington, Indiana on Monday, April 22 for The Bloomington Songwriter's Showcase.
Eric started his musical career in the Boston area and has been a regular player on many national tours and showcases. His influences are as diverse as Townes Van Zandt, Steve Earle, Steve Howe and The Ramones. Mr. Sommer's current project with power trio "The Solar Flares" shake up Chet Atkins and David Bromberg influences with those of ZZ Top and Elvis Costello - a remarkable mix.
With open tunings, slide guitar, lap-slap tone guitar and a remarkably aggressive fingering style approach, watching Eric Sommer will make you jump out of your seat and holler for joy! There are very few players who have maintained this authentic American style of guitar and Eric Sommer is one of the very best.
Eric Sommer is currently touring in support of his new record Rainy Day Karma and a number of songs off that disc - "Red Queen", "Sunny Afghanistan" and "Cover My Soul in Gasoline".
Three local singers and songwriters from the Bloomington area are also on the bill for the evening: Travis Caudle, Marc H & Travis P and Jamie Nicole.
________________________________________________________________
For Music Samples please visit CDBaby or Eric Sommer online for additional schedules or contact him at eric(at)ericsommer(dot)com or call 202-255-1995. Additionally, you can find Eric Sommer on Facebook, too.
Eric Sommer is represented by Clyde is Thinking, and PR programs are managed thru MTG/NY; For more information, promo/appearance requests or to set up an interview, please contact Tom Monihan 202-255-1995.