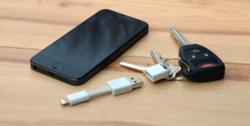 Chicago, IL (PRWEB) April 18, 2013
KERO LLC. announced today that the Nomad Cable, a 3" lightning USB Apple certified cable for your key ring, is available for pre-sale at the newly launched website, keroproducts.com. It retails for $24.99 for shipment in June, 2013.
The Nomad Cable's key feature is that it is Apple MFi certified to assure Apple's standard of quality. The physical size of the Apple lightning connector allows for the key length cable to be non-intrusive to the user. It is secured to a key ring via USB cap using a unique detent feature. A flat cable design allows for use almost everywhere.
The Nomad Cable was successfully financed on crowd-funding website, Kickstarter, on Dec. 19th, 2012. It was featured on the websites Mashable and Macrumors, and it has also received an abundance of positive feedback from its 1,000+ Facebook fans.
For more information or distribution inquiries KERO can be emailed to support(at)keroproducts(dot)com