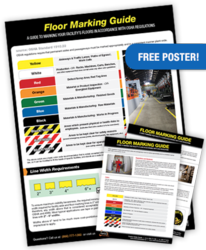 "The floor marking guide was easy to read and follow. The poster is a great reminder to all of us what each color represents."
Lake Oswego, OR (PRWEB) April 16, 2013
Safety is critical for business owners and one of the best ways to promote safety and comply with OSHA regulations is by training workers and office staff the proper floor marking guidelines that will guarantee a safe work environment. Creative Safety Supply is now offering a floor marking guide and an 18 inch by 24 inch poster that will assure a business is in compliance with OSHA floor marking standards. When walk ways and aisles are properly marked, pedestrians, truck or forklift traffic will know their safety boundaries and unwanted accidents will be reduced.
OSHA Standard 1910.22 dictates that all companies must mark walk and work areas that are clearly identified as safe pathways or dangerous areas to prevent accidents or injuries. One of OSHA's top violations is the "Walking/Work Surface Violations" with an average fine of $1,632 per individual violation.
Many companies will mark their floors to enhance their visual organization in the workplace, marking locations in a uniform manner and color scheme that allows employees to quickly identify areas and potential hazards based on color. This can enhance workflow in addition to providing safety benefits.
The Floor Marking Guide and poster will describe what each color represents and how it should be used in the workplace. Yellow identifies aisles and traffic lanes. White is used for production or racks, machines and carts. Red describes a Red Tag Area and orange is used for product inspection. Green is typically used for raw materials or first aid locations. Blue identifies work in progress and black distinguishes finished goods.
A business owner commented, "The floor marking guide was easy to read and follow. The poster is a great reminder to all of us what each color represents."
For more information about the Floor Marking Guide and Poster, please visit http://www.creativesafetysupply.com/Floor-Marking-Guide/ or call toll-free (866)777-1360 to speak with a professional representative.