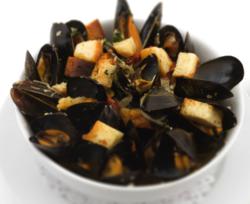 When you walk in, you feel like you're in Paris!
Los Angeles, CA (PRWEB) April 15, 2013
Finding the recipe for success has LA restaurateurs acting like mad wizards in search of an elusive potion. Meet in Paris gets the formula right by serving classic French comfort foods like steak frites, onion soup gratinée and charcuteries in an elegant yet relaxed style.
The secret to its success, however, may be its expansive menu of Moules Frites – mussels with French fries. It is the only restaurant in Los Angeles (or anywhere else we've heard of) that serves mussels 16 different ways. Customers return to try all 16 kinds, or come midweek for the All-You-Can-Eat special every Tuesday and Wednesday, knocking off a few varieties in one sitting.
The mussels menu offers something for everyone. There are French preparations like Moutarde Ancienne with mustard, smoked bacon, wild mushrooms and cream; and the house special Meet in Paris mussels, which has crab, saffron, bacon, basil, and white wine. There are also Italian, Spanish, Thai and Mexican styles. Two customer favorites are the Alaskan mussels, prepared with smoked scallops, shrimp, and smoked salmon; and Italiano, which features Prosciutto, goat cheese, roasted garlic and pesto.
Now four years old, the Culver City fan favorite has thrived without advertising, building its base of ardent supporters by word-of-mouth. Tripadvisor.com recently ranked Meet in Paris the #1 restaurant in Culver City based on customer reviews. But while folks on Yelp, Citysearch, OpenTable, and other customer review websites routinely rave about its food, the menu is only one reason people fall in love with Meet in Paris.
Sebastien and Cecile Cornic, the French couple who own and manage Meet in Paris, have created a romantic Parisian getaway that's a wonderful escape from the headlong rush of LA life. They have gone far beyond the basic bistro though by encouraging a customer-friendly style of service that breaks the mold of the fussy French brasserie.
"When you walk in, you feel like you're in Paris," explains Sebastien Cornic. "It's one of the things our customers love. But we're also known for our very friendly and warm service. We want our customers to relax and not feel rushed. Our staff makes sure everyone has a special experience."
The LA area's only "moulerie," Meet in Paris serves 500 pounds of mussels every week, flown fresh from Canada's Prince Edward Island, which is renowned for its consistently high-quality mussels. The medium-size mussels – tender, meaty, and flavorful – are sustainably harvested with no feed or additives, and have earned a "Best Choice" rating from Monterey Bay Aquarium's Seafood Watch program.
The flavorful mussels are not only delicious, they're also exceptionally healthy, with the most impressive nutritional profile of any shellfish. High-protein, low-fat powerpacks of vitamins and minerals, mussels are an ideal food for health-conscious Angelenos.
Unsolicited comments on websites like Yelp help explain the restaurant's popularity, but the reviews of its mussels border on the fanatic. "I would like to take this time to share my appreciation to you for introducing me to the delectable combination that is moules frites," wrote Kate V. of Los Angeles. "I'm not sure how I went so long without trying this delicious pair…but now that I have, my life is forever changed." Sam M. of Santa Monica added, "We went on a Wed when they have UNLIMITED MUSSELS! They have literally 16 different sauces and ways of preparing their mussels and they are soooooo goood! For $25 we ate mussels until we couldn't anymore!"
Meet in Paris has a wine list that is specially chosen to pair with their mussels and other menu items, and also features a range of international beers.
"We have some of the best craft beers from all over the world – from Belgium, Canada, Germany, and France, and they're a beautiful pairing for the mussels," says Sebastien. "Though our delicious white wines from Alsace also work well, as do some Burgundies."
Weekly specials include Mussels and Beer Mondays (30% off mussels and half-price beer), No Corkage Thursdays, a weekend prix fixe menu, half-off wines on Sundays, and a Bottomless Mimosa served at their popular weekend brunch.
After four years of persistent praise, Meet in Paris has secured its place in the LA food scene, and inspired legions of fans to fall in love with this friendly neighborhood bistro over and over again.
Located at 9727 Culver Blvd., Meet in Paris is open seven days a week. Reservations are available by calling 310-815-822 or by visiting http://www.opentable.com/meet-in-paris. See menus, specials and reviews on Meet in Paris' website at http://www.meetrestaurantla.com.
###