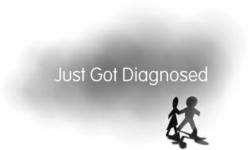 Coping with the daily challenges of a chronic condition takes a toll on the emotions, for both children and their families, which in turn affects communication. They need education and support to help them to navigate the road ahead.
New York, NY (PRWEB) April 17, 2013
Dr. Gary McClain is speaking at a family camp for children with hemophilia and active inhibitors and their families on April 19-22 at The Painted Turtle in California. A specialist in the emotional and spiritual impact of chronic and catastrophic illnesses, Gary McClain, PhD, developed JustGotDiagnosed.com to address a serious need he saw going unfulfilled; namely, a way for newly-diagnosed patients to receive help in coping with their emotional reactions to their diagnosis. Dr. McClain also blogs on the patient social networking site, AllianceHealth.com.
McClain will lead an interactive workshop for parents titled "The Chronically Ill Family: How Inhibitors Affect the Family Unit," covering topics that will include emotions and chronic health conditions, caring for the caregiver, and family communications.
He will also be leading a group for teens, "Dealing with Being Different." This group will help participants in acknowledging feelings of loss, frustration, and anger, and how to channel emotions into positive action.
In describing his workshops at the Inhibitor Family Camp, McClain emphasized the importance of recognizing the impact that a chronic condition has on emotions, self-image, and personal relationships. " This retreat will provide individuals living with hemophilia and inhibitors with additional resources to increase their emotional quality of life. I am honored to be involved."
Family Inhibitor Camp is provided by Comprehensive Health Education Services, LLC, through an educational grant from Novo Nordisk. The Painted Turtle campground was founded by a partnership that included Paul Newman for children living with health conditions.
About Dr. Gary McClain and JustGotDiagnosed.com
Dr. Gary McClain is a therapist, educator, life coach and author who specializes in working with individuals who have been diagnosed with chronic and catastrophic medical conditions, focusing on issues that include coping emotionally, gathering information, making lifestyle and treatment decisions, managing relationships, and communicating with healthcare professionals. As "Dr. Gary," he blogs on patient social networking boards on AllianceHealth.com. Founded and developed by Dr. McClain, JustGotDiagnosed.com offers information, guidance and inspiration for newly diagnosed patients, their caregivers, and healthcare professionals. His program for newly-diagnosed patients, Prepared for the Road Ahead ™, is focused on the emotional, lifestyle management, communications, and vision for the future. Visit JustGotDiagnosed.com.