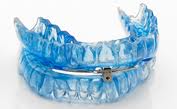 Hove, East Sussex (PRWEB UK) 23 April 2013
Brighton Implant Clinic, a premier dental implant and dentistry practice in the UK, is helping weary patients sleep well at night-- and awaken with a smile on their face. The East Sussex area-based practice is now offering orthoapnea treatment services in response to heightened patient struggles with common interrupters of quality nighttime rest: snoring and sleep aponea.
"Everyone deserves a good night's sleep. Sleep aponea is a danger for many and arises when air is prevented from reaching the lungs, either by a physical object or lack of respiratory effort. As a result, the sleeper stops breathing and automatically wakes up to begin breathing again, resulting in interrupted sleep," says Dr. Bruno Silva, Principal Dentist of Brighton Implant Clinic. "Our new treatment, Orthoapnea ®, reduces snoring and sleep aponea, enabling our patients to get uninterrupted, quality sleep so they are rejuvenated and revitalised the next day. Already some of our patients are getting quality undisrupted rest, for some the first time in years."
According to the British Snoring and Sleep Aponea Association, there are an estimated 15 million snorers in the UK, among whom an estimated 600,000 people suffer from sleep aponea. Those experiencing sleep aponea struggle with multiple challenges including excessive daytime sleepiness, lack of awareness, decreased performance ability at home and work, irritability, headaches, or even changes in disposition or behavior. Snoring is a less serious matter than sleep aponea but can still disrupt the consistency of a person's sleep cycle. Additionally, snoring and sleep aponea can affect the partners of individuals with these conditions, keeping them up at night or making them worry over their partners' decreased quality of life.
The clinic's Orthoapnea ® treatment incorporates intra-oral splints that adjust the placement of the lower jaw, the tongue and other structures to allow for unrestricted air flow to the lungs. The splints are constructed so that readjustment takes place and the patient is not restrained from being able to talk, drink, or other normal activities.
"Orthoapnea ® treatment has been clinically proven to be very effective in reducing snoring and sleep aponea, and is quite comfortable. The treatment is produced in our in-house lab, therefore making it cost-effective and immediately available for patient use," says Silva. "We're happy to help our patients get on the road to superior sleep patterns and happier lives."
Customers interested in putting disruptive sleep cycles to rest can visit http://www.brightonimplantclinic.co.uk/ to learn more about the practice's services and schedule a free initial consultation. There, they will find information on other services, including dental implant placement and other dental treatments.