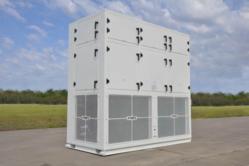 We are both excited and honored to be awarded the agreement to be the exclusive provider for all of the process analytical HVAC equipment for the Sadara Project
Houston, TX (PRWEB) April 16, 2013
Custom Air Products & Services, Inc. (CAPS), a leading commercial and industrial heating, ventilation and air conditioning (HVAC) company based in Houston, Texas (US) has announced it has been awarded a contract to provide industrial HVAC units for Sadara Chemical Company (Sadara). Sadara is a joint venture developed by Saudi Arabian Oil Company (Saudi Aramco) and The Dow Chemical Company (Dow).
Officials did not disclose the terms of the agreement.
CAPS' scope of work for the project includes the custom manufacturing of all the industrial HVAC equipment for the process analytical buildings and enclosures throughout the entire Sadara Complex, now being built in Jubail Industrial City II in Saudi Arabia. The projects' scope requires over 20 different sized HVAC units, 100% redundancy, stainless steel construction, hazardous electrical classification and fully integrated direct digital controls (DDC). The project will progress over the next several years with CAPS providing over 100 fully integrated HVAC systems, controls, ductwork and chemical filtration. Additionally, CAPS will provide the initial installation, commissioning and long term service / maintenance support for those systems.
Comprised of 26 manufacturing units, the Sadara complex will be one of the world's largest integrated chemical facilities, and the largest ever built in a single phase. First production units are expected to come on line in the second half of 2015, with all units up and running in 2016.
In making the announcement, Custom Air Products & Services Vice President Dave Wasson said, "We are both excited and honored to be awarded the agreement to be the exclusive provider for all of the process analytical HVAC equipment for the Sadara Project. We also look forward to the opportunity to again work with world class international companies such as Dow and Saudi Aramco. CAPS has worked consistently over the last several years utilizing its in-house engineering and design resources to develop a custom solution to our client's needs that are specific to the harsh environment in the Middle East."
About Custom Air Products & Services
Custom Air Products & Services, Inc. is a full-service HVAC company that specializes in the design, construction, installation, modification, and servicing of industrial and commercial air conditioning equipment. CAPS employees are committed to providing exceptional custom design and quality workmanship at competitive prices.
Custom Air Products & Services currently occupies four modern facilities, totaling 150,000 square feet in size. These buildings include administrative and engineering offices, training facilities, a filter warehouse, and service shops for fabrication, manufacturing, and modifications. CAPS services are provided to customers throughout the United States and Mexico while their manufactured products have been delivered to sites around the world. Currently CAPS has equipment operating on six (6) continents and in 52 countries.
For more information, contact Custom Air Products at 713-460-9009 or visit them on the web at http://www.customairproducts.com.
###
If you'd like more information about this topic, please call Bea Amaya at 713-460-9009 or email her at bea.amaya(at)customairproducts(dot)com.