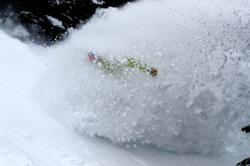 Leavenworth, Wash. (PRWEB) April 14, 2013
Thanks to a mid-April snow storm that dropped nearly two feet of snow in 48 hours, Stevens Pass will extend their season so that Pacific Northwest skiers and riders can enjoy the plentiful snow.
With a season total of 501 inches of snow and a 113-143 inch snow base, Stevens will remain open for Monday, April 15 as well as the following weekend, April 20-21. Stevens' last scheduled day was Sunday, April 14.
"This latest spring storm has created some phenomenal late-season conditions here at Stevens Pass," said Bill Bourton, General Manager at Stevens Pass. "We decided to extend our season so that our guests and loyal season pass holders have an opportunity to enjoy another day or two on the slopes."
For the extended season, lift tickets will be $55 for ages 16-69, $39 for ages 7-15, $15 for ages 70 and over. Children six and under are free.