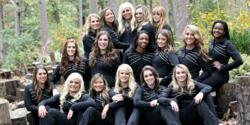 Shreveport, LA (PRWEB) April 14, 2013
The Centenary College of Louisiana gymnastics team posted another strong performance, matching last night's team high score 193.975 in the finals of the USA Gymnastics National Collegiate Championships.
Once again, the University of Bridgeport took first place with a 196.500 and notched the highest score two days in a row. Texas Woman's University, winners from session one on Friday, finished second place with a 194.800. Brown University rounded out the standings with a 193.575 score.
No event-score records were broken, but a more consistent attack saw the Ladies finish four rotations with a score over 48.150.
For the second straight night, beam was the opening rotation for the Ladies and they scored 48.475. Jessica Lieblich (9.850) anchored the Ladies' rotation with a personal best performance. Along with Lieblich, A trio of Ladies including: Stephanie Strickler (9.800), Tawnee Hadd (9.750), and Kellie Slater (9.725) all claimed career-highs.
All six competitors contributed huge efforts on floor with a 48.700 and every score a 9.650-plus. Meg Crowley (9.800) led the Maroon and White with the highest score. Hadd (9.725) and Strickler (9.650) set career bests on back-to-back routines and continued their excellent nights. Lieblich (9.750), Robyn Price (9.750), and Martinez (9.675) all added nice scores in the rotation.
Vault was the tough event tonight for the Ladies after previously breaking season bests the last two competitions. Noel Stubbs (9.825) nailed a critical routine that kept the Ladies close in the standings. The Orange Park, Fla. native scored a personal best and broke her previous high by 0.5 points. Price (9.750), Slater (9.625), and Martinez (9.625) all posted quality scores.
The Ladies concluded their meet on uneven bars and after struggling day one, came out and scored a 48.650. Price (9.825) notched the highest score for the Ladies just short 0.25 of her career-high. A pair of seniors did set personal bests in their final meet on bars with Crowley (9.775) and Amanda Holt (9.725) concluding the night with solid performances. Fellow seniors Martinez (9.675) and Lieblich (9.650) wrapped up nice scores in their final career team competition.
Lieblich and Crowley will get one more meet of their collegiate career Sunday representing Centenary on floor in the event finals.
Centenary finished hosting the USA Gymnastics National Championships with the individual competition April 14 in the Gold Dome.
###
About Centenary College of Louisiana
Founded in 1825, Centenary College of Louisiana is the oldest chartered liberal arts college west of the Mississippi River and is a U.S. News & World Report Tier One National Liberal Arts College. A member of the Associated Colleges of the South, Centenary is a selective, private, residential institution, affiliated with the United Methodist Church.