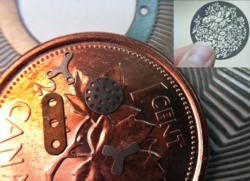 "There is no limitation on complexity of shape, allowing easy partitioning around existing design; Any aperture configuration can be accommodated."
(PRWEB) April 15, 2013
Shimifrez Inc. (http://www.shimifrez.com) a Canadian leader in fabricating precision photo chemically etched and electroformed metal components, to provide micro machining services to universities and research institutions globally.
With miniaturisation and the increasing density of components in electronic and electrical systems there is an increasing flexibility in order to meet those needs effectively. The fastest response time and lowest photo tooling costs make photo chemical machining (photo-etching) and electroforming ideal for both prototyping and medium / large production quantities. Instead of stamping, or laser cutting Photo Etching produces highly accurate and identical components for small and large batches. Chemical etching has No effect on magnetic properties, or deformation whether internal stresses or thermal, resulting a Burr free component. where Tooling is very inexpensive, and Modification to photo tooling can be done quickly and economically.
"We continued our strategy of reinvesting in our micro fabrication services and technologies to ensure that we can lead our clients and our own business toward new horizons of productivity and enhancing growth and value" says Shimifrez's President Hassan Nojoumi.
With over 25 of experience in the field of micro metal fabrication, Shimifrez's activities in photo chemical etching and electro-forming is far reaching and can include creating critical components for satellites and instrumentation's to micro meshes/grids, semi-conductor lead frames, ultra micro metal parts, gimbal springs, fluidic channels, reticles, damper shims, targets, RFI/EMI/ESD board level shielding, heat sinks, BPP's for fuel cell applications to consumer products such as speaker grills. Components can be manufactured in stainless steels, brass, nickel alloys, beryllium copper, phosphorous bronze, kovar, inconel, DCB substrates and aluminum alloys to name a few. Shimifrez offers a rapid-response service to deliver micro components to several precision industries such as the aerospace/satellite, automotive, telecommunications, micro- electronics and defense sectors. The demand now exists for relatively thin between 0.0005" (0.01mm) to 0.040" (1mm), complex design and intricate metal components at an economical price.
Services & Capabilities. Shimifrez Inc. facility is located at 55 Administration Road, Unit 30, in Concord, Ontario, just north of Toronto, Canada. Whether you are in the aerospace industry or medical device manufacturer or micro-electronics or telecommunications need other consumer applications, we have the capabilities to help. For more information of how Shimifrez can help you enhance your product line please call 905-695-6898 or email photoetch(at)shimifrez(dot)com or visit (http://www.shimifrez.com)