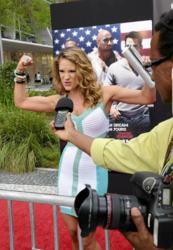 (PRWEB) April 15, 2013
Jennifer Nicole Lee proved the point that strong is the new sexy on the red carpet when she flashed her mega-watt smile while flexing her biceps at the world premiere of the Michael Bay movie "Pain & Gain", featuring award winning actors Mark Wahlberg, Dwayne Johnson, Ed Harris, and Anthony Mackie.
Jennifer Nicole Lee enjoys being casted by Paramount films as a Principle Sun Gym trainer as noted on her Wikipedia page, and also on her IMDB acting profile.
When asked how it was to be at the World Premiere of the "Pain & Gain" movie on South Beach, JNL replied "Its paradise! Miami beach, Michael Bay, the most amazing actors and cast, and Im able to represent that strong is the new skinny, and showcase that strong women are sexy too! Im honored to have enjoyed being on the movie set during filming, and Im proud to also show that my favorite city, Miami, is in its own right the next "Hollywood", with many movies, tv shows, and productions being filmed here. And seeing Michael Bay work on set as really eye opening for me as well. I have nothing but respect for the entire cast and crew to this movie."
Next for Jennifer Nicole Lee is the release of her fourth book, fittingly called "The Jennifer Nicole Lee Sexy Body Diet: JNL's Sexy Secrets to Living a Fun, Fit, & Fierce Lifestyle!" where she reveals the secrets of the world's most alluring and successful women. This book is now available here at http://tinyurl.com/bwz4w3b .
JNL will also be hosting her Fitness Model Factory 1 Day Mega Event in New York City at an exclusive and private studio, where she has taken lucky applicants under her "super fitness mega mogul wing" and will coach them on how to make it in the fitness, beauty & entertainment industry.
For more info, please visit her official facebook page at http://www.JenniferNicoleLeeFB.com or reach her through her contact page on her Official celebrity website of http://www.JenniferNicoleLee.com