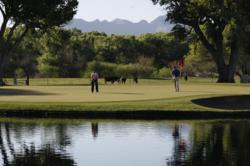 "Autism affects so many people in the U.S. everyday," said Linda Cormier general manager of Tubac Golf Resort & Spa. "We are glad to help the Tucson Autism Community Center make a positive difference."
Tubac, AZ. (PRWEB) April 17, 2013
The Tucson Autism Community Center(TACC) is hosting its annual Autism Charity Golf Classic at the Tubac Golf Resort & Spa on Saturday, May 4, 2013. Special guests include NFL veteran quarterback Rodney Peete author of "Not My Boy! A Father, a Son, and One Family's Journey with Autism", an inspiring story of Peete's family's experience raising a child with autism.
Proceeds will benefit the Tucson Alliance for Autism (TAFA). The mission of TAFA is to promote community awareness and provide diagnostic and therapeutic services for individuals with an Autism Spectrum Disorder (ASD); to educate and support professionals and families on ASD-related issues; to support and provide resources for families; to stimulate research and represent the best interests of the autism community in Tucson and its surrounding areas.
The Centers for Disease Control and Prevention (CDC) estimates that as many as one in 110 children have autism spectrum disorder (ASD); in contrast, 15 years ago, the prevalence of autism was believed to be one per 2000. Autism can be difficult to detect and diagnose. Research shows that the earlier a child is identified, the more interventions such as speech therapy and behavioral training are likely to help.
"We are honored to once again be selected as the location of the Autism Charity Golf Classic", said Linda Cormier, General Manager at the Tubac Golf Resort & Spa. "The staff and volunteers at TAFA provide valuable resources for families with questions and concerns about ASD". For more information, visit http://www.TucsonAllianceforAutism.org or call 520-319-5857.
The Tubac Golf Resort & Spa is located at One Otero Road in Tubac, Arizona. The property is set on 500 acres at the base of the Santa Rita Mountains on the historic Otero Ranch and features 98 Hacienda style guest rooms, 27-holes of championship golf, a full service spa, boutique shopping and renowned dining. For more information, visit http://www.TubacGolfResort.com or call 520-398-2211.