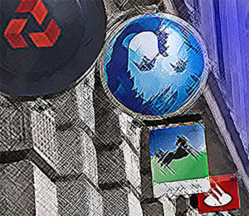 we'll expect many more to be using our, already popular, current account comparison tables
London (PRWEB UK) 15 April 2013
Despite the fact that a number of new players (Post Office, Virgin Money, Tesco etc.) are busily preparing to woo customers from the UK's current account providers, the banks themselves appear to be as complacent as ever, if survey findings from the consumer group Which are to be believed.
According to the survey, widely reported in today's broadsheet press, over 25% of UK customers have had issues with their bank over the past year. The most common issues highlighted were regarding poor customer service (including reaching an advisor) and banks, despite heavily losses incurred from past mistakes, continuing to try to sell inappropriate products and services.
Of the financial institutions examined Lloyds Banking Group appears to have fared worst, with both Lloyds and Bank of Scotland amongst the banks whose customers experienced the highest proportion of problems. Customers of the Nationwide Building Society and First Direct (HSBC's Telephone & Internet banking service) reported the fewest number of issuers, but it seems few are immune for criticism and many will need to up their game if they don't want to see customers switching to other providers when rules making the process quicker take effect this September.
A compareandsave.com spokesperson commented:
"Unpicking these results is not easy. Customers clearly aren't getting what they feel they deserve. Some of that is down to expectation, what has passed for good service in days gone by is not always good enough today. Some of the issues are likely to be the result of the continued financial pressures most families find themselves under. However, the reasons are perhaps irrelevant; if banks don't want to lose custom, when the rules change, they'll need to up their game quickly.
UK customers are well versed at comparing financial products to ensure they get the best deal and unless the banks repair the damage now we'll expect many more to be using our, already popular, current account comparison tables."
compareandsave.com is one of the UK's leading personal finance comparison websites. Based in Colchester, Essex, compareandsave.com has been helping UK consumers get a better deal on credit cards, savings accounts, personal loans and more for over five years.