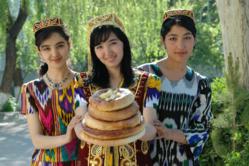 Come and discover Uzbekistan to get unforgettable memories that last a lifetime!
(PRWEB) April 16, 2013
Travelling is an essential part of many people's lifestyles. Whether they are big fanatics of exploring the world for pleasure or have to transact business in different parts of the globe, there are many times when people have to travel either for the sake of enjoyment or for business purposes. Today, people around the world are keen to explore new places to learn about different cultures, ancient monuments and diverse lifestyles.
Over the last few years Central Asia Tourism has gained vast popularity and become one of the preferred choices of many people around the world. It has emerged as a new travel destination especially after Soviet Union subsided with five newly independent Republics: Kyrgyzstan, Tajikistan, Kazakhstan, Uzbekistan and Turkmenistan. Today, tourists prefer visiting Central Asian countries to Middle East due to the hospitality of people, unique culture and amazing historical monuments especially the fabled cities of Samarkand and Bukhara both listed by UNESCO as World Heritage Sites.
With special tour packages of one of well trusted Uzbekistan Tourism Companies like Roxana Tour, tourists can enjoy visiting world-known ancient cities Bukhara, Khiva, Samarkand, Tashkent and other Silk Road citadels, which are known for their unique cultural and historic background. After getting Uzbekistan visa, enthusiasts can visit the turquoise domes of Timurid architecture, the bazaar of Bukhara with its traditional artisans, Registan Square which represents Central Asia's finest Islamic architectural ensemble.
Roxana Tour professionals also help tourists with hotel reservation in Uzbekistan. By just clicking on the page http://www.roxanatour.com/simple-booking-tour.php anyone can get best package deals according to their choice and budget. Book individual or group tours around different cities of Uzbekistan without breaking the bank.