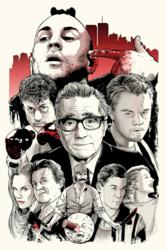 Over 70 artists from around the world have created new and original works of art in honor of Mr. Scorsese
New York, NY (PRWEB) April 15, 2013
Known for his New York-centric filmography, which includes cinematic classics such as Taxi Driver, Raging Bull, Gangs of New York and Goodfellas, Martin Scorsese is widely regarded as one of the most important working directors in film today. With his recent five Oscars wins at the 2012 Academy Awards for this most recent film, Hugo, the 71-year old director continues to prove his relevance in modern cinema history.
On Friday, April 19th, Spoke Art Gallery of San Francisco, CA will debut a special weekend-long pop up exhibition in Chelsea, New York City, dedicated to the storied filmography of the legendary director. Over 70 artists from around the world have created new and original works of art in honor of Mr. Scorsese in an eclectic showing of over one hundred paintings, sculptures and screen prints.
The exhibition will open Friday, April 19th with an opening night reception and party that is free and open to the public. The reception begins at 6pm and the first one hundred attendees will receive an exclusive limited edition screen print to commemorate the occasion. The show will be on view to the general public Saturday, April 20th and Sunday, April 21st from 11AM to 5PM.
The event will take place at Bold Hype, a gallery space located at 547 W27th St. (fifth floor) in the heart of New York's Chelsea arts district.
Participating artists include: Aaron Jasinski, Adam Maida, Akira Beard, Alex Pearson, Alexander Iaccarino, Andrew Spear, Beau Stanton, Bethany Marchman, Brian Ewing, Brian Methe, Casey Weldon, Chuck Sperry, Dave MacDowell, Dave Perillo, David Moscati, Derek Gores, Derek Weisberg, Epyon5, Erik Jones, Fernando Reza, Gabz, Geoff Trapp, Greg Gossel, Hydro74, Ibraheem Youssef, Isaac Bidwell, James Gilleard, Jayson Weidel, Jessica Deahl, Joel Daniel Phillips, Johannah O'Donnell, JoKa, Jon Smith, Jonathan Bergeron, Joshua Budich, Justin VanGenderen, Kevin Jay Stanton, Kristopher Joesel, Lucien Shapiro, Matt Needle, Matt Taylor, Meghan Stratman, Melissa Ling, Michelle Coffee, Monkey Ink Design, NC Winters, New Flesh, Nick Comparone, Oliver Barrett, Paul Shipper, Peter Adamyan, Rafael Santiago, Rhys Cooper, Rich Pellegrino, Sam Gilbey, Sam Ho, Sam Smith, Sandi Calistro, Scott C, Scott Weatherwax, Serge Gay Jr., Steve Daily, Steve Hughes, Tessa Morrison, Toobs, Tracie Ching, Ty Mattson, William Arvin, Zach Landrum, Zeb Love.
About the curator, Spoke Art:
Based in San Francisco, CA, Spoke Art is a contemporary art gallery that specializes in cutting edge contemporary and pop art exhibits. Founded in 2009, Spoke Art hosts approximately one dozen exhibitions a year at their permanent gallery space in their Lower Nob Hill neighborhood exhibition space. The gallery also participates in variety of international art fairs including Armory Week's Scope Art Fair, San Francisco's ArtMrkt and ArtPad fairs and at prestigious satellite fairs during Art Basel Miami Beach.
Previous tribute shows to cult directors include:
An annual Wes Anderson art show entitled "Bad Dads" which is hosted every Halloween weekend in San Francisco as an art show and costume party. This exhibit has received acclaim from the director himself and is now in it's fourth concurrent year.
As well as the "Quentin vs. Coen" exhibit which pitted the films of Quentin Tarantino and the Coen Brothers against each other in an artistic show down of epic proportions. That exhibit toured from New York City to San Francisco to Los Angeles in 2010 and saw celebrity guests including the Coen Brothers themselves.
Relevant information:
Who: Spoke Art presents: "Scorsese: an art show tribute"
What: an art exhibit dedicated to the films of Martin Scorsese
When: April 19th - 21st
Where: Hosted at Bold Hype Gallery in Chelsea: 547 W27th St. (fifth floor)
Relevant Links:
Spoke Art - http://spoke-art.com
Bold Hype - http://boldhype.net
Facebook Event Page - http://www.facebook.com/events/554462814574110/