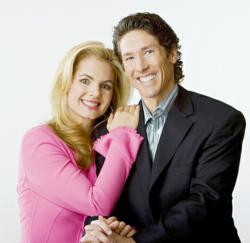 (PRWEB) April 14, 2013
It has become a highly anticipated annual event that combines worship, music, and a timely word of encouragement from one of America's most esteemed pastors and inspirational speakers. It is the fifth annual "America's Night of Hope," and as in past years Trinity Broadcasting Network, America's most-watched faith channel, will join Pastor Joel and Victoria Osteen as the broadcast partner for the April 20th event at Marlins Park in Miami, Florida.
"Over the past several years TBN has been honored to partner with Joel Osteen Ministries to broadcast 'America's Night of Hope' in cities like New York, Los Angeles, and last year's memorable event from Washington, DC," said Matthew Crouch, TBN's Vice President. "Each year has dramatically impacted us here at TBN, just as it has touched the tens of thousands of individuals who've attended live — as well as the millions across America who have viewed it by television. We're expecting another monumental evening at Miami's Marlins Park."
Pastor of one of America's largest and most diverse congregations, the 43,000-strong Lakewood Church in Houston, Texas, Joel Osteen speaks hope and truth into the lives of millions of individuals and families weekly through his number-one rated TV program, seen around the world on TBN and the Church Channel.
Millions of people have also been inspired through his New York Times bestselling books, his top-ten iTunes weekly podcast, and his sold-out "Night of Hope" worship events in arenas and stadiums across the U.S. and abroad. The New York Times noted that Pastor Joel is one of the most influential people on Twitter, and one of the most retweeted.
"More than ever before, people are looking for hope in their lives," said Pastor Joel. "I like to tell them that 'God's dream for your life is bigger than your own.' That is what the 'Night of Hope' in Miami is all about: inspiring people to expect God's best for them."
He added that "Victoria and I are excited to be in the beautiful city of Miami once again, and we're thrilled to be partnering with TBN to broadcast this life-changing event to individuals and families everywhere. I believe people will be uplifted and filled with an expectation that their best days are still out in front of them."
The event, which is expected to pack the 37,000-seat Marlins Major League Baseball stadium, will feature worship and special music from Lakewood Church's talented worship team, a word of encouragement from Victoria Osteen, a time of testimony and prayer, and a powerful message of hope from Pastor Joel.
Prior to the "Night of Hope," on April 19 from 7 to 9 p.m. (Pacific Time), Joel and Victoria Osteen will join host Rich Wilkerson for a special broadcast of TBN's award-winning "Praise the Lord" program, live from Miami. They will discuss the "Night of Hope" event, along with their Generation Hope project that will mobilize young adults from around the nation to bring tangible help to the Miami area by participating in service projects in schools, parks, and food banks in the community.
Matt Crouch noted that Joel Osteen's ministry is consistently one of the top rated programs on TBN, and has helped to make TBN America's most-watched Christian network. "Pastor Joel has been called the voice of hope and faith for a new generation of believers," he said. "This historic 'Night of Hope' from Miami will bring a timely word of encouragement to TBN's vast audience — not only across America, but around the world."
"America's Night of Hope" will be taped live April 20 at Marlins Park in Miami, and be broadcast on TBN Sunday, May 12, at 7 p.m. (Pacific Time).
For more about the Trinity Broadcasting Family of Networks, visit http://www.tbn.org.