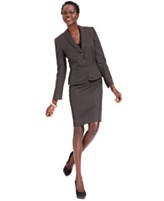 (PRWEB) April 14, 2013
Wholesale brand name designer suits for women YouTube video has been released by Closeout Explosion, an apparel wholesale company located in Brooklyn. Donny Lowy, the CEO of CloseoutExplosion.com, has narrated a special business educational presentation to provide resellers with information, advice, and tips, regarding buying and selling brand name corporate outfits. His presentation focuses on the reasons why customers purchase designer office suits, and how to capitalize on the demand for work wear. The video is based on Donny Lowy's personal experience in supplying closeout merchandise to a range of resellers including high end boutiques in Nigeria, clothing shops in New York, and retailers in Trinidad.
"As the ranks of professional women in the work place increase, especially in countries in Africa and in the Caribbean, the demand for designer wear is increasing as well. Thanks to the aggressive international marketing by, and on behalf of, labels such as Tahari, Jones New York, Kasper, Le Suit, Anne Klein, Calvin Klein, Nine West, and Eva Picone, the popularity of these designers is gaining in developing cities that have a strong government and corporate sector, such as Lagos, Abuja, Beirut, Port of Spain, Accra, Nairobi, and Gaborone," said Donny, who specializes in exporting liquidation pallets of shoes, dresses, handbags, and kids wear.
The importance of having a solid grasp on the intricacies of this clothing category is especially crucial as the competition increases due to the ease of access to closeout sources. While in the past a wholesale buyer would need to navigate the Manhattan streets of the New York Fashion District, an ambitious importer can now simply log on to a website such as WholesaleCentral.com, and easily conduct a search for overstock vendors. For example, an African retailer can import brand name clothing from an American wholesaler simply by shopping through his overstock website. The merchandise can then be shipped through a freight forwarder such as Express Air Freight or Schenker , and often have her order shipped to her on a freight collect basis by air. But this ability to purchase liquidation products has also introduced more competitors who now have the same access to clothing showrooms through their Internet connection. By watching the video and taking notes, resellers can better understand what is necessary to profitably compete in this highly lucrative business.
"Styles do not change as rapidly as with other apparel selections such as blouses or footwear, so the market is more consistent for a boutique. Because customers have a desire to buy a previous season's production in exchange for receiving a discount, the seller can take advantage of off price and job lot merchandise. Buying liquidation lots will enable the store operator to work on a much higher profit margin while still delivering clients with the savings they desire. The resellers should ensure that her clothing selection matches her client's expectations, such as their appropriateness for corporate and social functions. Size is also an important requirement, since depending on the location of the client certain size ranges will sell faster than others. Shoppers from Nigeria prefer sizes from 12 to 18, customers from Barbados generally want large and plus sizes, clients in Greece need sizes small through large, while customers in Costa Rica need petite sizes," explained Donny, who continues to add online tutorials for those seeking to master the closeout industry.