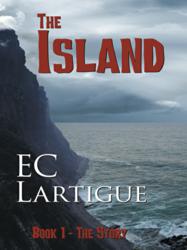 Tulsa, Okla. (PRWEB) April 16, 2013
Missions pastor, EC Lartigue tells the story of a man who is marooned on a mysterious island, where the unbelievable exists in his new novel, The Island.
Lartigue has used his background as a storyteller of the Word of God to write this fanciful, but meaningful novel. The Island follows the story of Oliver, who is marooned on a mysterious island and his journey to escape the island. Throughout the story, Oliver encounters the unimaginable and must work to uncover the ancient secrets of the island that hold the key not only to his rescue, but also to his destiny and the destiny of the world.
Lartigue's novel appeals to every person's inherent need for a sense of wonder and encouraged readers to stray away from the cynicism and negativity that is so prevalent in today's society.
"We live at a time and in a culture where there has been a loss of imagination," said Lartigue. "Although there is this loss, the thirst for the element of wonder remains and only increases in the presence of so-called reality entertainment."
As a missions pastor, Lartigue has had the opportunity to travel around the world and has learned many important lessons through his travels, including the power of storytelling and how to use a story to spread universal truth.
"Truth has a magnificent quality," said Lartigue. "Not only does it give us a basis for living, it ignites that God given area of our lives where faith informs our souls."
For more information about the author, book or the forthcoming audiobook, please visit http://www.eclwriter.com.
The Island
By EC Lartigue
Paperback, $22.95
Kindle, $3.99
ISBN: 978-1-4497-7489
Available at http://www.amazon.com.
About the author
EC Lartigue is a pastor with a poet's heart and a storyteller's mind. He is a missions pastor and has traveled extensively around the world, sharing the everlasting story. He and his wife live in Jenks, Okla.