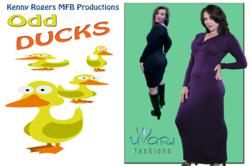 Orlando, FL (PRWEB) April 15, 2013
Kenny Rogers, actor, director, producer and founder of MFB Productions releases a new comedy sitcom pilot titled Odd Ducks -- now available for public viewing on Kickstarter.
Odd Ducks is a quirky comedy TV pilot produced by Kenny Rogers/MFB Productions. The four characters are an odd mixture of associates who meet up once a week for random exchange resulting in hilarious offbeat humor. Pilot episodes 1 and 2 introduce the characters to the world. Kenny is using the Kickstarter platform to raise capital.
Kenny's wife, Anissa Rogers, fashion designer and fitness model, launches U ARe! Fashions. Endorsed as the next evolution in fashion, this line is taking beauty, style and comfort to the next level.
U ARe! Fashions was established with the spirit of celebration at heart. The philosophy: Celebrate beauty, Celebrate spirituality, Celebrate womanhood, Celebrate Who U ARe! Women play key roles in shaping and molding the lives of others but often neglect themselves. The aspiration of the line is to inspire women to discover and celebrate who they are. U ARe! Fashions dresses are chic, versatile and designed to fit beautifully on every shape and size, for women who don't just want versatility and comfort but who want beauty and quality too!
Click to learn more about U ARe! Fashions
Contact:
Kenny Rogers/Anissa Rogers
Email: Uarefashions(at)outlook(dot)com
Phone: (863) 969-9505
Website: http://www.kickstarter.com/projects/517264454/kenny-rogers-films-odd-ducks-and-wife-launches-fas