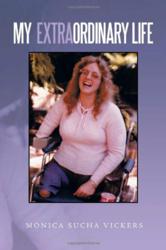 Phoenix (PRWEB) April 16, 2013
According to the Centers for Disease Control and Prevention, about 27 million women in the United States have disabilities. These women are forced to face not only the physical limitations associated with their disability, but also social stigmas and sometimes, even discrimination.
Monica Sucha Vickers addresses the realities of being born as a congenital triple amputee in her new book My Extraordinary Life.
Throughout her life, Vickers has faced adversity because of her physical disability, including both physical and emotional difficulties. She has also had to deal with stereotyping and discrimination in her everyday life.
"I have had people tell me that they don't know what to say to people who are disabled and some have even said that they are afraid of disabled people," said Vickers. "I encourage all people to see disabled people as people, try to look past their disability and remember that they are just like everyone else."
Not only does Vickers want to change the world's perception of disabled people, but also change the way that disable people see themselves. She hopes that by sharing her story with others that she will encourage disabled people to break the stereotypes and standards set by other people.
"Don't take someone else's word for what you can and cannot accomplish in life," said Vickers. "Learning how to do things on my own not only gave me confidence, but also increased my creativity."
My Extraordinary Life
By Monica Sucha Vickers
Hardcover, $29.95
Paperback, $19.99
Kindle, $3.00
ISBN: 978-1-4797-6048-0
Available at http://www.amazon.com.
About the author
Monica Sucha Vickers was born a congenital triple amputee and has faced many hardships and trials because of her disability. However, she has managed to overcome all the obstacles set in her path and wants to share her story with others. She resides in Arizona.