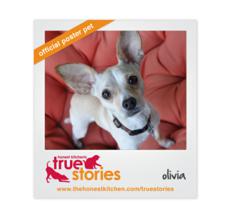 "We receive dozens of testimonials from consumers on an almost daily basis, and True Stories was built to let our customer share their success stories with us and with each other, in an un-edited, unsolicited way," said Lucy Postins, Founder and CEO
San Diego, CA (PRWEB) April 15, 2013
The Honest Kitchen, maker of all natural pet foods, treats and supplements, announced that it has launched a brand new web site, which includes True Stories™ a social media sharing platform that allows consumers to make their own cats and dogs into Official Poster Pets for the company.
True Stories brings product testimonials to life, and allows real customers to be the spokespeople for The Honest Kitchen, by providing feedback on the beneficial effects on their pets' ailments, that they've seen since they began feeding the company's products. True Stories include customers' remarks about improvements in pet health problems such as skin and coat disorders, digestive upset, ear infections and urinary tract problems.
Customers can upload their product success stories and pet photos on the site, and the True Stories platform customizes customers' pet photos into beautiful Polaroid-style portraits on the site with the pet's name and campaign logo. In turn, customers can share their True Story across their own social media networks such as Facebook, Twitter and Pinterest.
As the campaign gains traction in the coming months, select Official Poster Pets' images and stories will be made into full size physical posters, signage, magazine advertisements and promotional postcards for retailers. Some of these materials will actually reference the store where the customer shops, to help bring the campaign to life in the retail setting.
"We receive dozens of testimonials from consumers on an almost daily basis, and True Stories was built to let our customer share their success stories with us and with each other, in an un-edited, unsolicited way," said Lucy Postins, Founder and CEO. "We've been overwhelmed by the response in just a few short weeks that the campaign has been up."
The new platform has been launched as an integral part of The Honest Kitchen's new web site and incorporates links to the products that customers used, as well as educational resources for others to learn more about the ailments and conditions that improved with use of the company's products. The physical True Stories Poster Pets campaign will commence this summer.
About The Honest Kitchen
The Honest Kitchen produces a line of dehydrated human-grade whole foods for dogs and cats, which are made with love in a human food facility (not in a pet food plant) for the highest possible quality standards. Dehydration is a gentle technique that removes only the moisture and retains most natural nutrients found in raw, whole foods. The private, family-owned company is based in San Diego CA. The Honest Kitchen's products are developed with uncompromising attention to detail, by a company of pet lovers with a passion for food. For more information, please visit http://www.TheHonestKitchen.com.