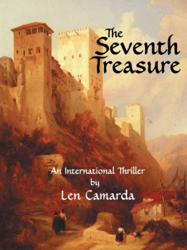 Savannah, Ga. (PRWEB) April 16, 2013
An apparent traffic accident sparks an unlikely chain of events that unearths a 500-year-old conspiracy in Len Camarda's The Seventh Treasure.
The Seventh Treasure follows the story of Secret Service agent Gene Cerone, who travels to Granada, Spain to investigate the mysterious circumstances surrounding his sister's death. After teaming up with Lieutenant Mercedes Garcia of the National Police Force, Cerone soon learns that his sister's death was no accident. Together they uncover a hidden conspiracy that dates back to the time the Moors surrendered their kingdom in Spain in 1492.
Camarda took inspiration from his travels across Spain and his passion for Spanish culture and history to write this novel.
"I have been in the international side of business for many years and have been fortunate enough to live and work in Spain," said Camarda. "Over the years I became deeply interested in and fascinated by Spanish culture, tradition and history."
As the investigation goes deeper, Cerone and Garcia are forced to confront an evil empire that not only threatens the stability of Spain, but also poses a threat against American national security. In response, this improbable duo forms an even more unlikely team including Secret Service experts, a Hollywood film studio, the CIA and the Spanish Police Scientific Unit in order to decipher fact from fable and leads from legends, to solve the mystery and stop a silent revolution.
"The unique blend of historical fiction combined with elements drawn from the Tales of the Arabian Nights creates a storyline that readers will find fascinating and intriguing," said Camarda. "It conjures up all sorts of images in the mind, which is the intention."
For more information, visit http://www.lencamarda.com.
The Seventh Treasure
By Len Camarda
Hardcover, $31.99
Paperback, $23.95
E-Book, $8.99
ISBN: 978-1-4772-9003-3 (HC), 978-1-4772-9004-0 (SC), 978-1-4772-9002-6 (E)
Available at http://www.amazon.com, http://www.bn.com and http://www.authorhouse.com.
About the author
Len Camarda had a 40-year international business career that took him all around the world, including working and living in Panama, the Netherlands and Spain. He is an accomplished painter and The Seventh Treasure is his first novel. He resides in the low country of South Carolina.