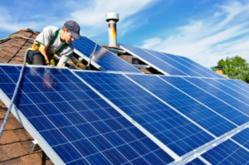 (PRWEB) April 15, 2013
Peak Solar is proud to announce the implementation of several solar friendly policies in Southern California which are helping to spur enormous growth in the number of residential and commercial solar electric systems throughout the state. According to California Official Statistics Report, Quarter 4, the state has more than 200 megawatts of solar power capacity installed through privately owned residential and commercial systems. Ranking in the top nationwide, California legislators seem to be committed to leading the south in the amount of solar energy produced.
The main impact of generous policy making has been to drive down the cost of owning a solar power generating system. The Southern California Utilities Commission reports the cost per watt, after complete installation, has decreased 36 percent over the last two years. Research indicates that the cost of a solar photovoltaic system is currently on par with the price of retail electricity. State and Federal incentives further lower cost.
Customers in South California can qualify for a 30% tax benefit from the federal government plus an additional 22 cents per watt rebate from the local utility. The Modified Accelerated Cost Recovery System allows commercial system customers to enjoy accelerated depreciation, further offsetting installation costs. Greater LA Payback periods of as little as two years with a 39% IIR are possible, depending upon system selection and installation costs.
There is no better time than now for Southern California residents to convert to a solar photovoltaic system. Peak Solar can help owners take advantage of all of the cost saving benefits, while ensuring the lowest possible price of system components. Ranging from small residential solar kits to large scale projects, the Peak Solar product line is designed to maximize efficiency and savings.
John Bucher,
1-805-765-2781
JrBucher(at)PeakSolar(dot)com
About Peak Solar:
The Peak Solar team has over four decades of experience in solar development and engineering. Together, they are working to make the science of solar energy a reality for average Americans. In addition to supplying photovoltaic systems, power inverters, DIY solar kits and components for residential applications, the company is a provider for large scale commercial projects and development.