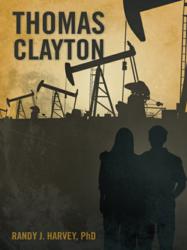 Portland, Ore. (PRWEB) April 16, 2013
2004 World Champion of Public Speaking for Toastmasters International, Dr. Randy J. Harvey draws on his skills as an expert storyteller to pen his first novel Thomas Clayton.
"Thomas Clayton began as a really good yarn by my father that I found in his effects following his death," said Harvey. "At first I just transcribed the pages and having done that I set out to finish the story that my father began."
Harvey's book centers around the story of Thomas Clayton "T.C." Gurley, who is orphaned after his mother, father and sister are killed in a car accident. T.C. is sent to go live with his uncle, Boats, who is unaffectionate, ruthless and selfish. Boats is involved with a criminal cartel known as the Combine and through his seedy activities endangers T.C. and his friends.
As the story progresses, T.C. learns to stand up against adversity in order to protect the people he loves. He also learns that real men love for a lifetime and those who are faithful to their families are the most successful in life. Harvey emphasizes how damaging the love of money can be in a person's life through Boats' character.
"Those who worship money thinking it will give them something meaningful in return are always disappointed," said Harvey. "My experience in knowing people with money is that those who treasure their family more are happiest and have the greatest success."
For more information, visit http://www.readthomasclayton.com.
Thomas Clayton
By Randy J. Harvey, PhD.
Paperback, $26.95
Kindle, $9.99
ISBN: 978-1-4759-6923-8
Available at http://www.amazon.com, http://www.bn.com and http://www.iuniverse.com.
About the author
Randy J. Harvey has a PhD from the University of Oregon and is the 2004 World Champion of Public Speaking for Toastmasters International. Thomas Clayton is based on the beginnings of a story written by Dr. Harvey's father, Jay L. Harvey. Dr. Harvey practices law in Portland, Ore., Eugene, Ore., and Sacramento, Ca. He resides in Sherwood, Ore.