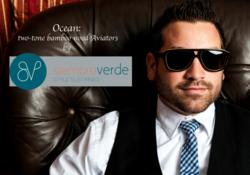 The goal is to help consumers do more than just imagine how a pair of glasses will look on them, they can try them all on.
Marina del Rey, CA (PRWEB) April 16, 2013
Siempre Verde, an all wood eyewear fashion line, launched the company's new website on April 1, 2013. Current and new style-conscious urban professionals now have access to the latest technology in purchasing accessories in the comfort of their own home - virtual try-on. Using a web cam or uploading an image, in just one click visitors to http://www.shopsiempre.com can try on the entire new all wood eyewear line - the Madera Collection. In addition, visitors can get some feedback before purchasing, with an easy share button to Facebook. Software is user friendly and intuitive, and most importantly gives visitors a unique buying experience.
The website boasts a modern, clean design with seamless navigation. "The goal is to help consumers do more than just imagine how a pair of glasses will look on them, they can try them all on." In addition to the exciting virtual try-on feature, the new website is complete with enhanced features such as an improved retail platform, single page product descriptions, multiple images and access to all social media platforms. To celebrate their launch, Siempre Verde is offering a 25% discount for a limited time. Visitors can take the virtual try-on for a spin and if is a perfect fit be sure to use coupon code "launch25."
The new Spring 2013 Madera collection showcases eyewear with a classic and modern twist - proving that eyewear can be both fashionable and eco-friendly. Their mission is to provide both optical and sunglass wearers with naturally inspired accessories that will also raise their environmental awareness. Siempre Verde uses only bamboo and sustainable woods like ebony, birch, and zebra wood. They are the first to offer single-vision prescription eyewear lenses, transition lenses, tinted lenses in an all wood frame delivered to your door. And for the sun lovers, premium quality polarized lenses are standard, not an upgrade.
With style shifting towards eco-friendliness, Siempre Verde is part of a progressive, widespread effort to transform not only the eyewear industry, but all other types of apparel. "As we become more aware of our environment and our impact on it, we want to feel good about the things we purchase. More and more fashion and accessories are moving in this direction so we no longer need to compromise style to do something good," states founder Rose Ann Salumbides. With their "get some, give some" program and a partnership with 1% for The Planet, siempre verde will plant a tree with every wood eyewear purchase.
Staying true to its motto "Style Sustained," Siempre Verde releases products that are intended to embody the unique spirit of Southern California's fashion scene. Those frames entitled Ocean, Brentwood, Rodeo and Venice are designed to represent their respective Los Angeles neighborhoods.