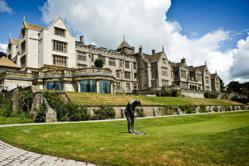 Los Angeles, CA (PRWEB) April 16, 2013
AuctionPoint2013 today announced that more than 100 commercial assets valued at over $400 million are available for review at AuctionPoint.com. Assets include all property types from across the country and select international markets (including: London, Ocho Rios, Jamaica, Dominican Republic, Costa Rica). More assets are being added daily.
According to Jerry Anderson, AuctionPoint2013 Event Committee Chair and past president of Sperry Van Ness International Corporation, the assets are available for underwriting and inspection through May 28 and online bidding will occur May 29 - 31. Broker co-op fees are available. Anderson noted, "Pre-auction offers will be considered, so interested parties should take a look at the available assets as soon as possible."
Buyers from all 50 states and 80 countries have already expressed interest, primarily because AuctionPoint2013 offers the lowest Buyer's Premium in the industry: just 2.5% compared to the typical 5% or more. In addition, the platform provides transparency and accountability, as the auction company never bids behind the scenes and many properties are auctioned with no hidden reserves.
A10 Capital, a participating national sponsor of AuctionPoint2013, will provide advisory and underwriting services for the assets to be auctioned.
Buyers may review asset details at http://www.auctionpoint.com.
About AuctionPoint2013
AuctionPoint2013 is an annual online auction focused exclusively on commercial real estate properties. The event is advertised to commercial real estate buyers on a national and international scale, with no placement or marketing fees for brokers and sellers. As a LoopNet partner, AuctionPoint2013 combines the deep real estate knowledge of its organizers with world-class online auction technology. For more information, visit AuctionPoint.com or call 800-807-1688.