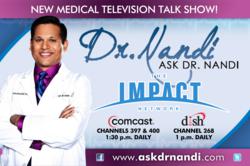 "I want patients to know the truth about their care," says Nandi. "If you feel you're not being heard, please get another opinion. Be an advocate for your own care; this includes fighting for appropriate care from your insurance plan."
Detroit, Mich (PRWEB) April 15, 2013
Learn the secret of good health from those who've had the worst, everything from arrhythmia and autism to Tourettes and restless leg, in this informational, heart-felt and often humorous medical talk show, capsulized here for easy digestion. Seeking an answer to your medical condition? Look no further...Just Ask Dr. Nandi.
Its physician host Dr. Partha Nandi is a humorous, down to earth physician whose goal is to make medicine more understandable. With his spiritual background, coupled with his no nonsense language, Dr. Nandi guides viewers through difficult topics with empathy and clarity.
After airing in Detroit and California to wide acclaim, Ask Dr Nandi has completed 104 episodes with its eyes on a new national audience.
Ask Dr. Nandi is a physician talk show shot in the host's hometown of Detroit, Michigan. Unlike other medical shows, it offers more than a sound bite and is not sensationalized, discussing only one medical topic per episode. "We talk about a problem in detail so people understand it and know how to resolve it," says Partha Nandi MD. "This show offers real solutions. We like to say, 'we'll go there' and we will! We're not afraid to tell the truth."
Nandi works alongside his wife, Kali Nandi, who is the producer of the show.
The pair has are assisted by successful producers such as the Emmy winning Patricia Childress of VH1's Behind The Music, The Dr. Phil Show and The Tyra Banks Show and Jennifer Sawalha also from Dr. Phil, The Tyra Banks Show and more recently working in programing and development with the Oprah Winfrey Network and Producer for "On Air with Ryan Seacrest."
Nandi is a believer that the mind and body are connected and true healing requires treatment of both. A national speaker, Nandi is able to teach patients and physicians how to achieve the goal of excellent health care. Nandi truly enjoys teaching family and friends ways to help them better their health and their lives, sharing his experiences and knowledge freely.
It is the same spirit that drives Ask Dr Nandi. Nandi wants to help patients understand their health problems fully, in plain language, and help develop solutions for them and their family. Each episode of Ask Dr. Nandi is dedicated to an important topic affecting the health of Americans, with real patients and practicing physician experts. Nandi states, "Our goal is to reach all people and inform them about their health needs without sensationalism".
The show has diverse topics from SIDS to Bullying to the effects of Multiple Concussions. "I want patients to know the truth about their care," says Nandi. "If you feel you're not being heard, please get another opinion. Be an advocate for your own care; this includes fighting for appropriate care from your insurance plan."
Dr. Partha Nandi practices in metro Detroit. Born in Calcutta, India, he immigrated to the United States as a child and completed high school by age 16. He attended Ohio State University on a full scholarship, graduating summa cum laude with a degree in chemistry and classical Greek civilization. Nandi was both the Rhoades scholar representative and Homecoming King at Ohio State.
"I became a physician because I want to be there when someone's world stops – I want to help people when they are most vulnerable and help them recover fully," says Dr. Nandi. "I always tell the truth about a medical condition and work hard to ensure my patients fully understand their problem. My goal with this TV show is to eliminate intimidation and fear from health care and put the power in the hands of the patients."
Dr. Nandi obtained his medical degree from Wayne State University, where he was elected to the Alpha Omega Alpha honor society and graduated in the top of his class. His internal medicine training took place at Wayne, where he was intern of the year; he completed his gastroenterology fellowship at the University of Michigan.
Nandi closes every show with "Namaste", a beautiful Hindi word meaning, "the light in me honors the light in you."
With Ask Dr Nandi, this husband and wife team can help shape the health of America and the world, one family at a time. With empathy, caring and honesty, Dr. Nandi can truly be called America's doctor.