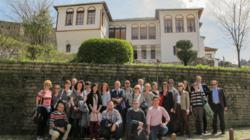 Warm and inviting spaces have been created to host travelers in a hostel that re-envision this house's original purpose.
Boulder, CO (PRWEB) April 16, 2013
Adventures in Preservation (AiP) announces the completion of the Babameto House restoration project in the World Heritage Site of Gjirokastra, Albania. Hands-on training and work sessions organized and led by Cultural Heritage without Borders (CHwB) were instrumental to the overwhelming success of the project. Volunteers from Adventures in Preservation joined students from Albania and other Balkan countries in learning and applying the traditional skills needed to complete this major building conservation project.
During the April 6th ceremony, local and national dignitaries, representatives from the Swedish embassy, and CHwB staff, along with Babameto family members, gathered in front of the newly restored Babameto I tower house to acknowledge the work that was done and the significance of the project for the Gjirokastra community.
Planning took over two years and restoration work another two years. The house will now offer reasonably priced accommodations to travelers visiting the city, supporting the heritage tourism industry in a sustainable manner.
This massive stone residence was built during the Ottoman era to house a large extended family. Following years of neglect during difficult economic times, the stone roof gave way and the house collapsed. This, sadly, is not an unusual occurrence in Gjirokastra.
The loss of heritage buildings threatens to undermine the community's plan to develop a sustainable economy based on heritage tourism. Maintaining the city's remarkable tower houses is thus a key element of the plan for growth.
Lejla Hadzic, Regional Director of CHwB, explains the role this restored residence will play in the community: "CHwB used restoration work that utilized traditional materials and revived traditional techniques. This method has proven to be the best way for all the monuments in Gjirokastra to tell their story again. Warm and inviting spaces have been created there to host travelers in a hostel that would re-envision this house's original purpose as a place of rest, comfort and hospitality. The artists of Gjirokastra can display their works in two beautiful rooms on the second floor."
AiP and CHwB have already begun work on the next house to be restored, the Skenduli House. With many of its original decorative and architectural features still intact, the house is a premiere example of the tower house form. International travelers interested in giving time to the project are welcome to attend preservation sessions in April and September of 2014.
For additional information on ongoing historic preservation efforts at the Skenduli House, contact Judith Broeker or visit adventuresinpreservation.org.
Adventures in Preservation is a non-profit organization connecting people and preservation through enriching experiential programs that safeguard cultural heritage. One- and two-week hands-on volunteer vacations give participants the opportunity to travel, experience their destination, and learn hands-on skills while saving a valuable historic resource. AiP envisions a world where people use, understand, and appreciate historic buildings that are vital to economic and environmental sustainability. Learn more about how AiP volunteers combine their power with the strength of local communities to make a difference at http://www.adventuresinpreservation.org.