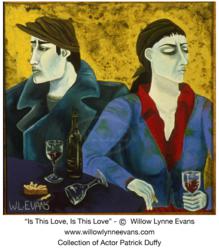 Santa Monica, California (PRWEB) April 15, 2013
Back in the late 1980s Santa Monica artist Willow Lynne Evans supplied the paintings that hung on the walls of Southfork Ranch on "Dallas" and the home at the "Falcon Crest" winery among other TV series.
This Monday night, three of her artworks will again grace the walls in the Season Finale of "Dallas," 9 p.m. (8 p.m. Central) on TNT.
"They shipped them all down to Texas for the taping, including a painting from the first show and a couple of pieces that star of the show Patrick Duffy now has hanging in his house," said Ms. Evans.
Her story in her words follows with links to her artwork:
"There are four generations of artists on both sides of my family, which include painters, sculptors, dancers, actors and a poet.
I was offered my first art show at Hama Sushi in Venice. I was given two weeks to fill the restaurant with 14 paintings. It was an explosion of creativity.
I was working as a waitress at the time at the Sagebrush Cantina in Culver City. I made a 4x6 portfolio of pictures of the paintings from the show, which I carried in my waitress apron and showed customers. The Sagebrush was a couple of blocks from Lorimar Studios. It was fun with actors and crew that came in for lunch. There was a table always reserved for the cast and crew of the televised series " Dallas." While waiting on their table, I met actor Patrick Duffy who introduced me to the set decorator of "Dallas," Chuck Rutherford. Patrick launched my painting career when he introduced me to Chuck. Chuck commissioned ten of my canvases for the "Dallas" show."
Patrick Duffy recalls it here:
"There is something inspiring about the confidence of a waitress in a Cantina bar and restaurant who carries around pictures of her art work in her apron. On one of my many jaunts during lunch break in filming Dallas, Larry (Hagman) and I stopped by The Sagebrush. I don't remember the very first time I had asked Willow about the photos in her pocket but I do recall how her work spoke to me. I had waited table in NY but always referred to myself as an actor and Willow was very clear about her being an artist who was waiting tables.
Thirty years later I am still an actor (this time working) and Willow is most definitely still an artist and along with her works that I have hung in my home for all this time she now has new pieces in Dallas' Ewing Energies offices. Her output continues to evolve and reflect her and times changes but also continues to affect an immediate response from me. I am happy to possess her work and her friendship."
Being able to paint in multiple styles has always been an asset for Evans. "Falcon Crest" commissioned 12 paintings in styles that included Deco, Impressionist, Abstract and Southwestern, which then led actor Jason Bateman to commission a whole series to fill his home.
Evans' career exploded. There was an artist as a character in the show "Aaron's Way" and they wanted to buy everything including her easel. She was painting day and night. Truck drivers waited while she used a blow dryer on paintings to dry them enough to travel to the set. She had to quit her waitress job.
Evans says painting for the show again is like going home. Patrick Duffy found her on Facebook and reconnected with her because he wanted a painting from the old show to hang in his office on the new show to tie the two shows together.
Through the re-connection, Patrick Duffy introduced her to the new "Dallas" production designer Richard Berg and set decorator A. Michelle Young, who asked her to create two additional modern style paintings for the show.
"Dallas" Season Two, Finale is on Monday night.
"Since my serendipitous first meeting with Patrick Duffy, I feel like I've come full circle and I'm excited to share in the return of the new "Dallas," said Evans.
To see the artwork that is mentioned and more go to:
http://www.willowevans.com