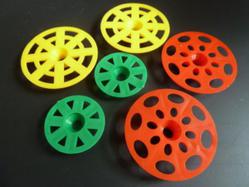 (PRWEB) April 15, 2013
Wuxi Glory Plastics is a professional supplier of injection molding and blow molding services. Today, the company releases its new EIFS fastener collection to its product line, and announces these products are available at discounted prices, up to 21% off.
Wuxi Glory Plastics is a leader in the industry. From small prototype mold inserts to large multi-cavity hot runner injection molds, their experienced mold makers and designers are able to provide the customers worldwide with high quality tooling at competitive prices.
The new EIFS fasteners follow the same international quality standards for which Wuxi Glory is trusted. The primary products in the new line are Australian and North American style EIFS washers, which are made by using an injection molding process. The raw material used is high quality high impact polypropylene, and the team of QA engineers ensures that all products meet strict quality standards.
In addition, various industrial plastic parts are also being offered in its catalog. Wuxi Glory ensures that it offers high quality products that are reliable as well as durable. The rapidly evolving customer-oriented products and services have helped Wuxi Glory become one of the world's top brands of injection molding and blow molding services.
About Wuxi Glory Plastics
Wuxi Glory Plastics is a China based company which was founded in 1995. It has become one of the topmost suppliers in the plastic industry in China. The core services offered by the company include blow molding and injection molding. Other than this, custom molded parts and various plastic parts are also supplied.
For more details please visit: http://www.plastics-molding.com