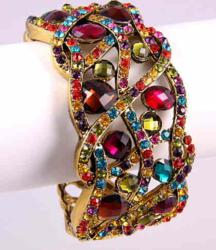 JustAboutLove.com is now social!
Glenview, IL (PRWEB) April 16, 2013
Great Ideas Group Inc., parent company of JustAboutLove.com a leading provider of fashion jewelry and accessories to the consumer, recently launched their social media presence on Facebook and Twitter.
A spokesperson for Great Ideas Group, Inc., commented that, "the addition of social media gives us the opportunity to engage with our visitors and customers on a more personal level. The benefits of our new social media platforms provide us with more ways to stay connected."
They encourage their customers to share photos and comments on their Facebook page from their JustAboutLove.com purchases. Engaged customers providing product feedback and testimonials helps to enhance their new social media platforms.
Some of their Facebook page features include updated product pictures and their shop direct app featuring ten of their products with a buy now option.
Click here to Like us on Facebook. Click here for theirTwitter Handle.
About Great Ideas Group, Inc.
JustAboutLove.com offers many different types of fashion jewelry including the exclusive Keepsake Pocket Heart Love Coins, charm bracelets, necklaces, brooches and special occasion gifts.
For more information, please visit http://www.justaboutlove.com