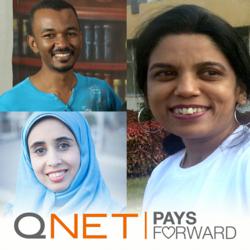 Through our resources and the innovative ideas of our distributors, we believe QNET can do more in addressing social issues to enrich lives and effect positive change.
Hong Kong (PRWEB) April 16, 2013
QNET will be giving grants of USD 10,000 each to three philanthropic causes in India, Uganda and Egypt. The grants are given as part of The Pitch!, a contest launched at QNET's annual convention in September last year, giving the company's distributors an opportunity to make a difference in their communities.
To participate, contestants had to pitch an idea to RYTHM Foundation, the Corporate Social Responsibility arm of QNET, to be implemented in collaboration with a charity or Non-Governmental Organisation (NGO) of their choice.
"Projects proposed had to fall under any of RF's four main pillars – Education, Community Development, Arts and Culture, and Environment," said Ms Donna Imson, Executive Chairperson of QNET and Trustee of RYTHM Foundation.
"We also considered the sustainability and impact to the community. We were not looking for big, complex projects, but simple ideas that can make a difference. "
The Foundation received more than 30 proposals from all corners of the world, of which six were shortlisted and three winners were selected – Emmanuel Emodek from Uganda, Shaimaa Amir Ahmed Ali from Egypt, and Sangeeta Motupalli from India.
Emmanuel Emodek chose the Pay It Forward Foundation (PIFF) in Uganda, which helps raise funds to benefit other NGOs in the community, because it encouraged self-sustainability.
"As they say, teach a man to fish and you feed them for life. PIFF helps develop the talents of the youth they work with, ensuring that they grow up with skills that help sustain their livelihood," said Emmanuel.
His project, Shiri Skills With A Mission, will provide vocational training in bike mechanics, sports, and other skills to underprivileged children.
"The grant will go towards building state-of-the-art training facilities, such as workshops and sports centres. My vision is to see our trainees go on to play for some of the top clubs in the world. With RYTHM Foundation and QNET's help, there is no limit to what we can accomplish," he said.
Sangeeta Motupalli also wants to help underprivileged children through the Li'll Hearts Educational Society, a school she founded in 2000, that provides education for underprivileged children in the area of Secunderabad, in Andhra Pradesh, India.
"Li'll Hearts helps children from very poor backgrounds who have little or no education. About 70 to 80% of them do not even have access to basic necessities. This grant will help finance building of additional classrooms, a computer lab and upgrading facilities like the library," explained Sangeeta.
"Ultimately, QNET is helping me expand the reach of the school and uplift the lives of even more children."
Shaimaa Amir Ahmed Ali from Egypt focused her attention on disabled children. She chose the Resala Charity Organisation and proposed opening the Resala Organization Center for Teaching and Qualifying Mentally Handicapped.
"Without dedicated help and lack of awareness in the community, most of these children suffer from abuse and are ostracised. Aside from helping these children, the Center will educate their parents and the community on how to take care of them."
"Resala, being one of the largest and most established NGOs in Egypt, has the resources to ensure the project's success and sustainability," said Shaimaa, who has worked as an administrator with the organisation for seven years.
The Pitch! is an example of how QNET instills in its distributors the importance of being caring, responsible citizens and businesspeople.
"Through our resources and the innovative ideas of our distributors, we believe QNET can do more in addressing social issues to enrich lives and effect positive change," said Ms Imson.
About QNET
QNET is one of Asia's leading Direct Selling companies with a dynamic online shopping and business community comprising around five million customers and independent distributors around the world. The company offers an entrepreneurial network marketing business opportunity and a portfolio of lifestyle products that have been developed to enhance the lives of its customers through innovation, wellness and luxury. Established in Asia in 1998, QNET utilises the direct sales business model on a proprietary eCommerce platform to market and distribute its exclusive products. The company specialises in everyday, consumer brands as well as high-end luxury goods. QNET is a member of the Direct selling Association in Malaysia, Singapore and the Philippines.
At the very heart of QNET is the philosophy of RYTHM, meaning Raise Yourself To Help Mankind. This grounding concept is embodied in the RYTHM Foundation, QNET's Corporate Social Responsibility arm.