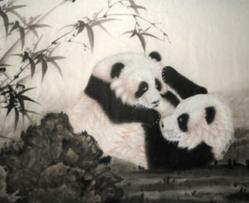 (PRWEB) April 15, 2013
Recently, Artisoo.com, the online Chinese art gallery, has started its Chinese painting sale for April 2013. The Chinese painting collection features beautiful Chinese landscape paintings, figure painting and animal painting collection which exhibit traditional Chinese art featuring exotic horse paintings, Chinese dragon paintings and much more.
Chinese art is world famous and is recognized for its extraordinary aesthetics which portray Chinese culture, traditions and customs. Artisoo.com strives to bring new and talented young artists to the limelight by exhibiting their amazing paintings to the world of art lovers. The website has a huge variety of paintings which are categorized so as to make the browsing experience of customers as easy as possible. In addition to paintings, Artisoo.com also supplies art products like photo articles and canvas sets.
The Chinese painting sale at artisoo.com will remain open for the entire month of April 2013. The collection featured in this offer has several landscape paintings, animal paintings, floral art and figure drawing. Although all the art work displayed at this beautiful web store is widely appreciated, the collection of Chinese horse painting is specifically likeable for its colors and themes. The paintings reflect true Chinese sceneries, traditions as well as events. Every painting here has a deep rooted theme and meaning and this is why artisoo.com art work is immensely popular.
For art lovers who are new to Chinese art can learn a lot from Artisoo.cm. This website not only sells paintings and art products, it also offers a good amount of information on art and Chinese art in particular. Chinese art is known for its cultural richness and uniqueness and artisoo.com is making a tremendous effort of spreading this beautiful art round the globe. The website offers all the paintings at reasonable prices and the facility of free shipping adds more delight to the shopping experience.
Established by Vincent and Zachary in 2009, Artisoo.com is fairly a new art store. Despite this, it is one of the most popular art galleries promoting Chinese art. The facility of worldwide free shipping makes artisoo.com a very desirable store.
For more details, please view: http://www.artisoo.com/