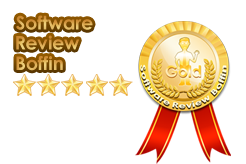 The review was based on a comparative study that scrutinized a number of audio video converter software products.
New York City, NY (PRWEB) April 19, 2013
After rigorous research, Software Review Boffin announced their choice of DRMBuster as the best audio video converter software within this industry category, with two competitor products following the lead with a few marginal differences. In its recent reviews of audio converter software, Boffin awarded the top software a gold medal and five stars along with a rave review that details the distinctive features of the product.
The review was based on a comparative study that scrutinized a number of audio video converter software products. Results were based on the ability of the software to meet established standards. The review highlighted that the best audio video software must be able to function at high speed while still offering a final product that has the closest match to the original quality. The Boffin review team will continue to evaluate DRMBuster and its competitor products against this and other established benchmarks, which might result in a change within placement rankings in the future.
In its recent statement, Boffin revealed that DRMBuster is without doubt the best option available as it was able to pass through the review team's scrutiny with relative ease. The feature that allowed DRMBuster to beat the other two competitors by a narrow margin was the ability of the software to convert any YouTube file into the required format in a matter of minutes.
The review team noted that DRMBuster allows files to be played at 50X speed through various devices including iPod and Zune. The review noted the ability of the software to convert files in an effortless manner while also providing high volume is based on its quality technology that results in optimal utilization of resources.
Boffin states that the combination of all features in one compact package makes DRMBuster a must-have for customers. The trustworthy review site is known for its valuable insight and this review leaves little doubt that DRMBuster indeed deserves the first position. Well done, DRMBuster.
Software Review Boffin reviews the latest technological products in demand on the market right now. They provide expert, honest and straightforward reviews so customers can objectively measure if a product, especially software is well worth it before making their purchase.
To learn more about Software Review Boffin visit http://www.softwarereviewboffin.com