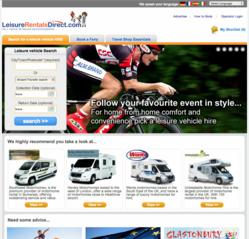 Online reviews are the new form of 'word of mouth' recommendation.
(PRWEB UK) 17 April 2013
The most up to date research shows that online reviews are hugely impactful, influencing the buying decisions of the vast majority of people who read them. In a recent independent report commissioned by the leading motorhome hire and campervan rental website LeisureRentalsDirect.com the loud and strong message is that businesses ignore the power of reviews at their peril.
The review writers
With traffic to the top 10 review sites growing more than 150% year on year, everyone can be an armchair, online critic. Statistics from the US suggest that the figures are indeed high and that about half of the population have written online reviews at least once . And why do they bother? Well, the reasons seem to be two fold. Firstly, it appears to be true that people do care about their fellow consumers and want to help them make similar buying decisions in the future. In addition, they do of course want to reward those businesses that have done right by them and let others know that their products and services have not been up to scratch in some way.
Customers, reviews and their buying decisions
Online reviews are the new form of 'word of mouth' recommendation. And despite several well-publicised examples of fake reviews and review disputes, 75% of customers still believe that the majority of the reviews they read are 'mostly genuine' and therefore trustworthy. What is important is that they then go on to use the information they have read to influence buying decisions. In the travel industry for instance, it's the case that 61% of customers say that a positive review would influence them to make a booking with a company. This is a hugely important statistic for those in the motorhome hire and campervan rental sector, particularly those that benefit from high levels of online traffic such as Motorhome Hire London.
Fake reviews
The need to root out those who attempt to manipulate review systems prevails as evidence suggests that the number of dubious, solicited and inauthentic reviews is growing and that fake reviews are most common on sites that don't require proof of customer-hood. What is clear is that browsers should be more re-assured they are reading credible and reliable reviews where they are posted by genuine and proven customers.
Valuing reviews
It's no surprise then that for some businesses the mantra is now that "reviews are the new advertising", including those in the campervan hire industry. But it is only very recently that the evidence has been found to show exactly how important online reviews and their rating systems are. Looking at restaurants reviewed on the popular US ratings site Yelp.com, two economists from the University of California have proven a positive causal link between favourable reviews and booking rates.
The higher the numbers of stars, the more customers are directed to higher quality restaurants. Conversely, worse ratings can encourage lower quality establishments to improve their quality in response to customer demand or even to shut down. If it's true that good reviews boost business in the restaurant industry, then it's equally likely to be the case in other parts of the leisure industry and other sectors.
Reviews and the future
In tough economic times it is more important than ever that customers have confidence in their buying decisions; they want to know they are likely to have a positive experience before they make their purchase or book their holiday. Love them or hate them, businesses need to embrace the possibilities that customer feedback provides.
As a result, LeisureRentalsDirect.com has joined the party launching its review format for motorhome hire and campervan rental customers. For the first time there is a place where customers can review their experiences of this rapidly growing part of the travel industry, giving valuable feedback to their fellow customers and businesses in the sector alike.
Resources
Statistics on Consumer Reviews, Search Engine People, 2012
The Other half of the Population, Harvard Business School, November 2011
12 Statistics on Consumer Reviews, Search Engine People, 2012
Learning from the Crowd, M Anderson and J Magruder, The Economic Journal, August 2012
Company information
LeisureRentalsDirect.com is a UK based online portal for motorhome hire and rental and campervan hire and rental managed by website developers Bad Apple Media Ltd. The findings referred to above are the key messages from an independent study on the impact of customer reviews commissioned by LeisureRentalsDirect.com from research consultancy Icarus Collective Ltd. It is being published at this time to provide an up to date snapshot of the impact of customer reviews on online businesses. This is part of the on-going programme of research being undertaken by LeisureRentalsDirect.com.