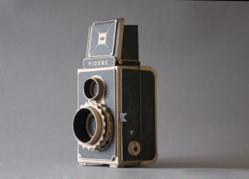 I knew the original camera had been on lots of blogs, but I never really expected the response I got from the download
London (PRWEB UK) 16 April 2013
Alex Boniface interviewed "Image Maker" Kelly Angood following full backing of her recent Kickstarter project. With 33 days left, the £15,000 goal has already been achieved with 498 backers pledging over £19,000.
Angood built her first pinhole camera whilst studying an illustration degree over two years ago. Since then, interest in the original project from all over the world encouraged her to produce a downloadable version that anyone could print. Blogs picked up on the story with an overwhelming response.
"I knew the original camera had been on lots of blogs, but I never really expected the response I got from the download. But one of the best bits of that section of the project was having people's photos arrive in my inbox", said Kelly Angood.
Having realised that there was a dedicated community, Angood reached out to Kickstarter to set out to produce the Videre, a medium format pinhole camera. Videre is simple, but elegant. Made from recycled die-cut card, it doesn't have a lens, instead making use of a simple pinhole and medium format film.
The project has been fully funded, but there is still much to do before completion. The designs, suppliers and funding are in place, but Angood now has to work quickly to deliver if she is to meet her November deadline. Although over 7 months away, her Kickstarter experience has introduced her to a wide range of community projects and collaborations that she says are now in the pipeline.
You can read the interview in full on Image Source's Photographer Blog (http://www.imagesource.com/blog/kelly-angood-pop-up-pinhole-project/).
If you are interested in having your very own Videre there is still time to back the project. You can find it on Kickstarter for more information.
About Image Source
Image Source is the world's leading producer of premium royalty free photos, rights manages photos, footage and cross-media content. Headquartered in London, UK, and with a regional office in New York, Image Source also supplies imagery through over 200 partners worldwide.
Committed to improving standards in the production of stock imagery, and determined to support photographers worldwide, Image Source also runs the dedicated photography blog IMSO. Offering news, insights, tips and commentary from Image Source's art direction team, IMSO provides everything photographers need to know to shoot the content demanded by image buyers.
You can search Image Source's image library 24/7 at http://www.imagesource.com.