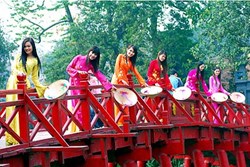 Book tours in Hanoi to get big offers from Vietsmile Travel
(PRWEB) April 15, 2013
As one of the leading travel companies in Vietnam, Vietsmile Travel offers tour packages, hotel and resort booking services, air tickets, visa application, etc. With an impressive, exquisite, and scientific design, the website of Vietsmile Travel has been an ultimate source of information for international customers during the past years. Getting access to the website, tourists can get useful travel information on Vietnam such as people, beauty spots, history, culture, entertainment, investment, legislation, economy, and so on. Indeed, the website provides particular details on different destinations in the country. Therefore, it is easy for tourists to find out what they need before traveling to this beautiful country.
To stimulate customers' demand, Vietsmile Travel has launched an attractive promotion program. Accordingly, tourists have the chance to get big offers when using one of the services of Vietsmile Travel. Apart from great deals on air tickets and visa application, Vietsmile Travel also offers many attractive tours at good prices. Each tour package is discounted by 15-30%. Besides, it also organizes more tours in Hanoi to meet the increasing needs of customers.
Since this is the best time to visit Hanoi, Vietsmile extends tour packages to give more choices for customers. Hanoi is known as one of the most interesting destinations in Vietnam; therefore, it draws a large number of international tourists every year.
Owning the typical climate of Northern Vietnam, spring in Hanoi seems to be at its most enchantment with the clear blue sky and gentle spells of breeze. Coming to Hanoi, tourists have the chance to reach the crucial center of culture, politics, trade, and tourism all over the country. Experiencing thousands of years, Hanoi is the symbol of Vietnam's history. Therefore, the city is the combination between tradition and modernity. Hanoi has a lot of unique beauties ranging from occupational villages, traditional cuisines, cultural festivals, historical places, and so on. Hanoi itself means "the city inside the river" since this city is surrounded by the beautiful Red River.
Having nearly 20 enchanting lakes, Hanoi has been called as "the city of lakes". Sword Lake, famous for its legend of the magic sword, is the historical and cultural center of the capital. It is also the great destination for every tourists once coming to Hanoi. They usually reach there to walk, sit on long benches on the lake bank, see the lake and enjoy the fresh and peaceful air of a traditional capital.
Not only does it attract tourists with old quarters and traditional culture and cuisine, it is also celebrated for interesting leisure centers, bars, and nightclubs. In addition, Hanoi has a variety of luxurious hotels and restaurants, designed after Western and Eastern architecture.
To visit such a beautiful city at a cheap price, tourists can contact with Vietsmile Travel by getting access to its website.