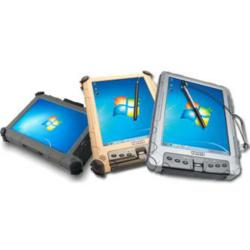 Rugged tablets such as the Xplore iX104C5 and ARMOR's X7et and X7ad are a good option for people looking beyond the popular Panasonic Toughbook range.
(PRWEB UK) 22 April 2013
As demand for easy-to-use tablets with high performance capabilities continues to rise, Rugged Systems is answering the call with three new robust and portable examples that are tough enough to withstand military usage.
ARMOR's two lightweight rugged tablet computers, the X7et and X7ad, weigh less than 1.5 lbs and provide full communications and processing capabilities, for Windows and Android respectively, while the Xplore iX104C5 is one of the toughest and most rugged tablet computers on the market. The iX104C5 comes with an ultra-low power 1.06GHz Intel Core i7 processor that can scale up to 2.13GHz with Turbo Boost and its fan acts as an active remote heat exchanger allowing this tablet to remove heat efficiently and continually so the system can run at full speed without any interruption.
All three tablets meet military standards, with an IP rating of 65, so they are drop and vibration resistant as well as being dust, sand, water and extreme temperature-proof. Favoured by military personnel, each provides users with the ability to confidentially distribute multi-functional applications and increase work productivity and situational response times, which are key for military and emergency usage.
Sebastian Leaver, Business Development Manager at Rugged Systems, comments: "Our customers include the military and emergency services, and other organisations that require robust, reliable equipment for a range of challenging environments. Rugged tablets such as the Xplore iX104C5 and ARMOR's X7et and X7ad are a good option for people looking beyond the popular Panasonic Toughbook range.
"These three tablets are outstanding in their ability to stand up to real world conditions such as heavy rain, sand and dust, constant vibrations, extreme temperatures, cold and hot, as well as resistance to drops onto solid concrete, making them the solution of choice for field use."
The ARMOR and Xplore tablets also combine highly-demanded visibility options such as clear screen displays in sunlight and dark conditions, allowing them to deliver maximum input.
For details of the full range of Rugged Systems' rugged tablet computers see: http://www.rugged-systems.com/c/tablets.htm. For more information on Rugged Systems' stock of military computers, laptops and other rugged products, visit http://www.rugged-systems.com.

About Rugged Systems
Rugged Systems is part of the Steatite family of companies. Steatite provides Industrial and Rugged Mobile computing platforms and integrated battery solutions for customers who demand high performance and reliability in mission critical and harsh operating environments. A market leader since 1938, Steatite's success comes from our passion and commitment to deliver high quality and reliable electronic products and services customised to your precise requirements. We place a particular emphasis on providing solutions that are built to last, and that can perform in some of the world's most demanding operating environments.
Products range from custom battery packs, electronic components, a full range of rugged mobile computers, fixed industrial computer hardware and custom embedded software solutions. With the ability to design and manufacture bespoke units to exact customer requirements, Steatite solutions are built for reliability in extreme conditions.
Sales, engineering, support and manufacturing are all based at Steatite's purpose-built 25,000 sq ft headquarters in Worcestershire, with EMC, temperature, shock and vibration test services available at the company's Oxfordshire site.
For media enquiries, and images, please contact James Munger on 01527 512400.