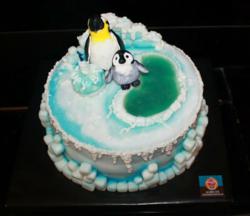 "The beauty of having a website is that a potential customer needs to find all the needed information in one spot, it has to be elegant, informative and not hard to browse. The simpler, the better" Ciaran Connolly, Co-Founder of ProfileTree
San Jose, Costa Rica (PRWEB) April 17, 2013
Creating delicious colorful cakes was always a dream for Chef Viviana Diaz, Owner of Pastry Ink in Costa Rica. She created a small business catering to people from all over the globe. ProfileTree learns more from Viviana about the business of creative cakes from Costa Rica.
Viviana spoke of her love for working around her own schedule and how a day in the life of a baker goes. She also stressed the importance of connecting to potential customers through social networks and cheap ways of getting advertised. "On my Facebook site I have fans from all over the world, and I'm from Costa Rica, (Social Media) is my number one source for getting clients, it is fast, inexpensive and popular."
Ciaran Connolly, Co-Founder of ProfileTree recommends creating a simple, elegant and easy to navigate corporate website for small business owners and linking it to social media accounts "the beauty of having a website is that a potential customer needs to find all the needed information in one spot, it has to be elegant, informative and not hard to browse. The simpler, the better"
About ProfileTree: ProfileTree is a free listing service where self employed and small business owner can create an online marketing profile. Profile Tree's main goal is to help small business owners reach new customers every day with the most innovative online marketing tips and techniques.
The website also enjoys sharing motivation photos for the self employed, helping with focus and drive. From professional wedding photographers to anyone offering a service - it can be listed online today.