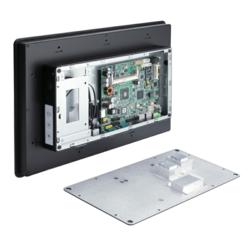 Offering a balance between high graphics performance and low power consumption, the GOT5120T-832 is a fully functional, all-in-one panel PC, useable in dim or dark environments.
Worcestershire (PRWEB UK) 30 April 2013
Steatite Embedded has added global design and manufacturing partner Axiomtek's latest touch panel PCs, the GOT3157W-832-PCT and GOT5120T-832, to its range of industrial and fanless panel PCs.
The new GOT3157W-832-PCT offers users an industrial panel PC with Intel Atom processor and features including a 15.6 inch, 16:9 aspect ratio multi-touch screen for a wider field of view and accurate interactivity. This panel PC's sleek modular design simplifies maintenance and is highly flexible, while its PCI Express Mini Card slot and fixed rotational WLAN antenna provide connectivity. Simply plug the WLAN Mini Card into the PC for instant access to wireless LAN, GPRS, GSM and 3G.
Offering a balance between high graphics performance and low power consumption, the GOT5120T-832 is a fully functional, all-in-one panel PC. It incorporates Intel's Cedar Trail platform and a dual core processor, while an ultra bright, 450 nit XGA colour resolution LCD display makes this embedded computer easy to use, even in dim or dark environments.
Both the GOT3157W-832-PCT and GOT5120T-832 panel PCs are IP65 rated and suitable for military computing applications; they can withstand damage from outside elements including dust, water, extreme temperature changes, drops and vibrations.
The GOT5120T-832 has an aluminium case, which dissipates heat rapidly and helps ensure trouble free operation regardless of the environment. Fully compatible with Windows 7, the GOT5120T-832 has a 2GB system memory and 2GB storage capacity plus optional RFID. Two different connectors allow this panel PC to accept DC or AC input.
Matt Brindle, business development manager at Steatite Embedded, comments: "The GOT5120T-832 provides superior computing and graphics performance. Its fanless design and operation make this an ideal solution for businesses, and individuals, seeking a noiseless panel PC, while the GOT3157W-832-PCT's modular design enables easy maintenance, fast troubleshooting and greater configuration flexibility, as well as the noiseless and ruggedized operation many of our customers now expect."
For more information, or to view Steatite Embedded's full range of industrial and fanless embedded systems, motherboards and enclosures, visit http://www.steatite-embedded.co.uk or call 01527 512 400.

About Steatite Embedded
Steatite Embedded is a part of the Steatite group of companies, which provide Industrial and Rugged Mobile computing platforms and integrated battery solutions for customers who demand high performance and reliability in mission critical and harsh operating environments. A market leader since 1938, Steatite's success comes from our passion and commitment to deliver high quality and reliable electronic products and services customised to your precise requirements. We place a particular emphasis on providing solutions that are built to last, and that can perform in some of the world's most demanding operating environments.
Products range from custom battery packs, electronic components, a full range of rugged mobile computers, fixed industrial computer hardware and custom embedded software solutions. With the ability to design and manufacture bespoke units to exact customer requirements, Steatite solutions are built for reliability in extreme conditions.
Sales, engineering, support and manufacturing are all based at Steatite's purpose-built 25,000 sq ft headquarters in Worcestershire, with EMC, temperature, shock and vibration test services available at the company's Oxfordshire site.
For media enquiries, and images, please contact James Munger on 01527 512400.