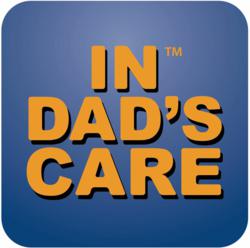 A one-day survival guide for dads left holding the baby.
(PRWEB) April 22, 2013
Most dads want to show that they can look after their baby for a day, but for many dads this is a challenge. A baby's needs are always changing, and it's not easy to keep up with what is required particularly if dad is working long hours.
Developed in response to a moms group bemoaning the difficulty their men had in taking care of the baby by themselves, IN DAD'S CARE provides essential parenting information, breaking the everyday babycare tasks down into concise phrases with simple-to-follow instructions including tips and warnings in appropriate areas.
The app has a unique advantage over most babycare books and apps. Because every baby's needs vary, IN DAD'S CARE has a comprehensive notes function, so dad (mom more likely) can add information specific to their baby such as what and when to feed, sleeping times, bathing and so on. Notes can be added either upfront for quick access or in the relevant sections.
Having a new baby is a wonderful experience but can be stressful – even for dad. One section is dedicated to what dad is likely to be experiencing, and has a small toolbox of suggestions. There's also a section on tips for dad to help prevent mother melt-down. .
Grandparents – The App has a bonus grandparents updater; after all, times have changed since they had kids. Are they up to speed with the baby care equipment (car safety seats, strollers, folding cots, gadgets, etc) used today?
Supported by a website http://www.indadscare.com, Facebook page http://www.facebook.com/indadscare, and Twitter account https://twitter.com/indadscare.
Available for iPhone, iPad and Android phones through: http://www.indadscare.com, the iTunes App Store, or the Google Play Store.