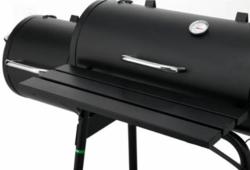 (PRWEB UK) 16 April 2013
Garden Gift Shop is pleased to unveil a selection of new barbeque and smoking products just in time for the coming warmer months. These new additions will add to the store's already extensive variety of outdoor products.
The highlight of their new selection is the Smokai Smoke Generator, a high performance food smoker from an established brand that is passionate about providing quality. It's the perfect tool for those looking to achieve that much sought-after smoked flavour. Precision engineered in New Zealand to achieve the highest efficiency, these devices implement Smokai's patented design to deliver amazing results with the easiest of use, a factor which is sure to make this product a very popular choice.
Garden Gift Shop's new range also caters for the barbeque purists. The Tennessee Offset BBQ Pit Smoker cooks food the classic American way by slowly smoking it on the grill. Its ingenious offset firebox allows you to refuel without losing heat and the BBQ's traditional grill make it the perfect cooking apparatus for any outdoor occasion.
Those looking for a bigger BBQ experience will also be impressed. Garden Gift Shop has also announced the release of the Memphis BBQ Pit Smoker; a supersized BBQ smoker that also doubles as a grill, allowing enough room for the entire family to enjoy the traditional BBQ experience.
The newly announced Musalla Masonry BBQ will appeal to those who like their BBQs a little more exotic. The beautiful looking masonry BBQ is brand new to the UK and would give any garden a wonderfully Mediterranean feel. It's on a special offer for a limited time only over at Garden Gift Shops online store.
The company themselves are very positive about the new products: "We are now well into spring and summer is just round the corner; So it's never been more important to get your garden ready for the sun. Garden Gift Shop is delighted to be able to offer our customers this fantastic range of new barbeque and smoker products. The Smokai Smoker comes from such a prestigious brand, and the pit smokers are amazing at delivering mouth-wateringly flavoursome meat."
ENDS
About Garden Gift Shop:
Garden Gift Shop is committed to finding the right kinds of gift for your garden. They stock a carefully selected range of high quality garden products, from BBQs to birdhouses, all supplied at reasonable prices and presented with a first class personal service.