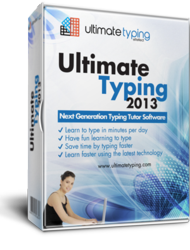 Ultimate Typing software, like its predecessor software, provides high value for money due to its distinct features and an effortless typing experience.
New York City, NY (PRWEB) April 24, 2013
The latest typing software released on the market, Ultimate Typing, is a product of eReflect, the company that recently launched Ultimate Vocabulary 2013 and received raving reviews from reputed websites. Ultimate Typing software, like its predecessor software, provides high value for money due to its distinct features and an effortless typing experience. User feedback, productivity surveys, and excellent reviews all confirm that Ultimate Typing delivers the support that today's typists need.
This typing tutor program is designed to hone the typing skills of users by placing the focus not only on speed, but also on accuracy in typing. Ultimate Typing Software provides typists with the latest technology, eReflect's Easy Learn system, that provides video tutorials at each stage in order to impart the necessary theoretical and practical knowledge. Users are provided all instructions as an integral part of the exercises and lessons in order to ensure that no questions are left unanswered. The drills and activities presented within the software allow users to enhance the efficiency of their typing skills while also learning basic tips can ease and enhance the process of typing itself. As reviews and users alike have noted, Ultimate Typing is highly versatile and easily customized, and therefore offers tailor made exercises that cater to the demands of various users from beginners to advanced learners.
Ultimate Typing software developers recently pointed out in a statement discussing usability that this software can be accessed by multiple users, providing greater functionality at school and at home. Additionally, it can be customized according to each user's preferences. Further customization comes from the fact that text for typing practices can be downloaded from various external resources. However, this software is not all about learning in the conventional manner.
As the developers stressed, the software adopts a more engaging approach by presenting fun games that are also designed to enhance typing skills. The software acts as a mentor and coach by constantly providing motivation through the means of a feature that tracks the performance of each user and charts the progress they have made over time.
eReflect has once again managed to introduce a software product that combines cutting edge technology and a user friendly interface. The software delivers what it claims, and this means learning outcomes set by typists are easily achieved with this system.
For more details on Ultimate Typing™ please visit http://www.ultimatetyping.com/.
About Ultimate Typing™
Ultimate Typing™ software is designed specifically for the improvement of typing skills. Created by eReflect, a world leader in e-learning and self-development software, Ultimate Typing™ has been informed by the latest developments in the science of touch typing.
Since its creation in 2006 by Marc Slater, the company has already catered to over 112 countries all over the world, offering products with the latest cutting-edge technology, some of which are among the world's most recognized and awarded in the industry.