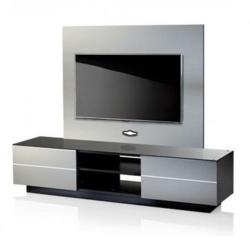 Contemporary tv stand an inspiring addition to living room with Inox TV Stand by Furnitureinfashion
(PRWEB UK) 17 April 2013
FurnitureInFashion has improved its reputation as the consummate online retailer of stunning TV stands by adding Inox TV stand to its catalogue. The company supplies quality TV stands that fit to a home theater of any size and shape. Inox TV stand is a great addition to the catalogue maintained by FurnitureInFashion. Its sleek structure and stunning appearance will certainly add modern ambience to a living room. This TV stand is an ideal choice to display plasma TV and LCD TV. FurnitureInFashion has been updating its TV stand catalogue due to increasing demand of the customers. Customers have shown confidence in the quality and design offered by the company in TV stands. This has encouraged FurnitureInFashion to further extend its range of TV stands in terms of design, shape, colour and price.
The stylish Inox G-S-180 TV stand is a beautiful amalgamation of wood and glass. The unit comes with a background plate for TV mounting and is sturdy enough to support any TV. The colour of the Inox TV stand is ideal for any home décor. It can complement the overall traditional, modern or contemporary living room décor. This stylish TV unit offers organizing feature as it provides space for storing 50 CDs. The Managing Director and CEO of FurnitureInFashion said, "FurnitureInFashion believes in delivering quality at affordable price. The company has been following the trends of TV stands very closely in order to update its TV stand catalogue with new designs and colours. Stylish Inox TV stand has been launched to extend the range of modern TV stand. With the width of 180 cm, depth of 44 cm and height of 42.5 cm, Inox TV stand can perfectly fit to any given space in a living room. Homeowners can organize their living rooms by storing the clutter in the storage compartments of this TV stand."
The Inox TV stand comes with a TV background plate to mount the TV on the wall. The background plate is also available in Inbox colour. SL-700 TV bracket has been included with VESA with dimensions of 600x400 mm. The bracket plate is cable tidy. This plate is suitable for screens up to 60". The plate has dimensions of around 135cm x150cms.
FurnitureInFashion not only offers the lowest price guarantee on TV stands but also on all home furniture within the extroverted online inventory. FurnitureInFashion is committed to provide the most convenient shopping experience possible over the internet. The company holds 90% inventory and delivers quality furniture directly from its German based warehouse. The Italian design concepts are usually incorporated in furniture that are fused together by using quality German manufacturing processes. Each product offered by FurnitureInFashion is evaluated on its quality, comfort, workmanship, warranty and satisfaction.
FurnitureInFashion has taken immense pride to produce quality furniture while keeping customer satisfaction at number one priority. Committed to provide modern and contemporary furniture, FurnitureInFashion has amalgamated wood, glass and marble in variety of rich finishes, accented with fine and exquisite details.
To have a look at quality and affordable TV stands online and to place a pre-stock order, please visit the company website today at http://www.furnitureinfashion.net. The range of cheap TV stands online at the website is huge, delivery is fast, savings are massive and the quality is guaranteed.
About FurnitureInFashion
FurnitureInFashion is a UK based online retail business. It supplies furniture items from its German based warehouse and has a showroom in Bolton, UK. The company provides everything from umbrella stand, wall art and room dividers to bedroom, bar stools and computer tables. FurnitureInFashion offers excellent free delivery within UK and has a fantastic customer service as well. For further information and details about the sale, please visit http://www.furnitureinfashion.net