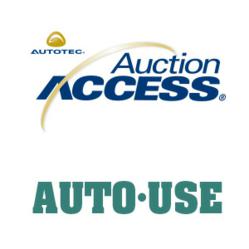 This system creates a more efficient floor plan process for dealers doing business with AutoUse
Birmingham, Ala. (PRWEB) April 16, 2013
AuctionACCESS is pleased to announce that another finance company has joined a growing list of industry partners who are now automating floorplan data transmission through the AuctionACCESS system. AutoUse floorplan availability will now be available to AuctionACCESS subscribing auctions. This data will enable auctions to show their dealers updated AutoUse credit availability before they enter the physical and online auction lanes. In addition, this system will allow auctions to quickly and efficiently originate floor plan transactions with AutoUse through an automated system.
"This system creates a more efficient floor plan process for dealers doing business with AutoUse," said Charlie Adams, AutoTec Director of Business Development. "We are thrilled to have AutoUse as partners and look forward to continuing to create an industry wide automated solution for transmitting floor plan data."
AuctionACCESS is now sending daily availability to over 240 member auctions.
"This integration reflects our commitment to provide quality service for our dealer customers," said Bob Drew, President of AutoUse. "The automated process with AuctionACCESS will create significant time and cost savings for our auction partners and make it easier for our dealers to grow their business."
COMPANY INFORMATION:
AutoUse is an independent finance company with over 40 years of experience providing service to thousands of franchised and independent auto dealers. For more information, visit http://www.autouseautoloan.com.
AutoTec, LLC, is based in Birmingham, AL.  The company's flagship product, AuctionACCESS, is the leader in helping companies manage their vehicle dealer credentials using a centralized database of dealers and authorized representatives from 128 countries.
CONTACT INFORMATION:
For more information, visit http://www.auctionaccess.com/media or contact: MLT Creative, Glenn Taylor at (404) 292-4502. E-mail inquiries: mediainfo(at)autotec(dot)com