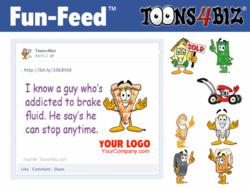 Geico and Aflac know how to use a brand mascot to attract millions of Facebook fans. Fun Feed™ leverages the same technique for small businesses.
Lees Summit, Missouri (PRWEB) April 17, 2013
Toons4Biz® announces the launch of Fun Feed™, a marketing system to help businesses develop a more robust, and engaged Facebook fan following using a cartoon character as a brand mascot.
Fun Feed™ is a subscription service that automatically puts humorous posts on a client's Facebook page, every day, 365 days a year. Each post features carefully crafted humor, along with the company's logo, contact info, and a cartoon brand mascot. The cartoon brand mascot helps companies differentiate their brand, and inject personality into their messaging. The humorous statements help bring the character to life and make him/her more likable. Think along the lines of the Aflac Duck, Geico Gecko or M&M characters.
The system nurtures behavior that Facebook rewards by virtue of its EdgeRank algorithm: The content is fresh - delivered at strategic times every day. The affinity people develop for the brand mascot, over time, helps develop a relationship between the consumer and the brand. The posts are not merely humorous. Portions are crafted to entice engagement in the form of Likes, Shares and/or Comments by asking for a desired action. For example: "Vote for your favorite: iPhone or Android."
Fun Feed™ also solves the problem of "not getting around to it," because the system is preloaded with 365 unique posts that are automatically deployed. Business owners can focus their valuable time on core competencies, and rely on Fun Feed™ to keep prospective customers engaged. When they do decide to post a promotion, there will be an army of engaged followers paying attention.
David Thompson, President of Toons4Biz®, said, "Most companies make the mistake of treating Facebook like 'sell-me' media instead of 'social' media. They post far too much content about their own products and services, and visitors get turned off quickly. People, on the other hand, use Facebook primarily for the three F's: friends, family and fun. Fun Feed delivers fun, and gets your brand inside the inner social circle of prospects. As a general rule, companies that run successful social media programs dedicate 80% of their content to fun and entertainment, and only 20% to selling and informing. Fun Feed delivers the 80% of content that is difficult to come up with."
Coming up with a cartoon brand mascot is easy with Toons4Biz®. The company has an online library of more than 14,000 pre-designed brand mascot images. There is one for virtually every type of business. If a company wants a custom designed character, Toons4Biz also provides that service.
Toons4biz® is headquartered in Lee's Summit, Missouri, and has specialized in the development of brand mascots since 2003. Fun Feed was developed as a way for clients to bring their mascot to life, and to leverage the incredible marketing power of such a mascot. For more information, contact Dave Thompson at davet(at)thompsonadvertisinginc(dot)com, call 816-366-0199, or see the brief Fun Feed™ video at toons4biz.com