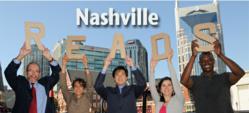 Nashville, TN (PRWEB) April 15, 2013
Nashville Public Library launched the second Nashville Reads, a citywide reading campaign to encourage teens and adults to read the same book at the same time to create a shared experience of reading in the city.
"Life of Pi," a novel by internationally acclaimed author Yann Martel, was the featured book. Nashville Reads attracted a diverse demographic for its various outreach programs which consisted of an author talk by Yann Martel at Nashville Public Library, community discussions and concluding with an outdoor movie showing at the Nashville Zoo. Books were placed throughout the community, including coffee shops and community centers and given away to Nashville MTA bus riders by Mayor Karl Dean during one of his 'Mayor on Board' bus rides.
"This vibrant novel is a great example of a book that sparks both imagination and contemplation," Mayor Karl Dean said. "It's a great read, and I encourage teens and adults to join me in Nashville Reads and participate in community events and discussions."
Nashville Reads is a program of the Nashville Public Library and is supported by many community institutions. It is a partnership between the office of Mayor Karl Dean, Parnassus Books, Friends of the Library, Humanities Tennessee, Houghton Mifflin Harcourt and the Nashville Public Library Foundation.
About Yann Martel
Yann Martel was born in Spain in 1963 of Canadian parents. Life of Pi won the 2002 Man Booker Prize and has been translated into more than 40 languages. A #1 New York Times bestseller, it spent sixty-nine weeks on the list and was adapted to the screen by Ang Lee. He is also the author of the novels Beatrice and Virgil and Self, the collection of stories The Facts Behind the Helsinki Roccamatios, and a collection of letters to the prime minister of Canada, 101 Letters to a Prime Minister. He lives in Saskatchewan, Canada.
About the Nashville Public Library Foundation
The Nashville Public Library Foundation, established in 1997, has raised more than $25 million to enhance the programs, facilities and collections of the Nashville Public Library, including enhancing the exquisite Grand Reading Room, the Bridgestone/Firestone Conference Center, the beautiful Robinson Courtyard, the Civil Rights Room and adding more than 150,000 items to library collections. The Foundation also supports the award winning preschool literacy program, Bringing Books to Life, funds art exhibits, a job search lab and presents the Nashville International Puppet Festival.
About the Nashville Public Library
The Nashville Public Library maintains a collection of more than 1.6 million items, including books, periodicals, DVDs, CDs, audio books and downloadable audio books. The library also offers more than 600 public-use computers and free art exhibits, educational programs, and events for all ages. NPL also offers 24/7 reference assistance, online databases, interlibrary loans and special collections, including the Metropolitan Archives and The Nashville Room. For more information, call (615) 862-5800 or visit http://www.library.nashville.org.
###