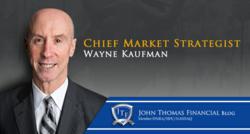 New York, NY (PRWEB) April 15, 2013
John Thomas Financials Chief Market Analyst Wayne S. Kaufman Weekly Report posted on the JTF Blog.
Stocks rebounded smartly last week from an oversold condition as good news out of China and better employment news drove the S&P 500 to a gain on the week of 2.29% and an all-time high. Major indexes were led on the week by the Nasdaq 100, up 3.06%, the Nasdaq Composite, up 2.84%, and the Bank of NY Mellon ADR Index, up 2.55%. All ten S&P sectors traded higher on the week led by Consumer Discretionary, up 3.36%, and Health Care, up 3.28%.
All twenty-four S&P industry groups were up last week. The leaders were Automobiles & Components, up 5.89% and completely erasing the sharp drop from the prior week, Pharmaceuticals, Biotech & Life Science, up 4.04%, and Retailing, up 3.97%.
Read The Full Article from the John Thomas Financial
To download the PDF
I, Wayne S. Kaufman, hereby certify that all of the views expressed in this research report accurately reflect my personal views about any and all of the subject issuer(s) or securities. I also certify that no part of my compensation was, is, or will be directly or indirectly related to the specific recommendation(s) or view(s) in this report.
For timely insights, news, and commentary on economics and financial markets, visit the John Thomas Financial Blog or join the John Thomas Financial community on Twitter and Facebook.
About John Thomas Financial:
John Thomas Financial, a member of FINRA and SIPC, is an independent broker-dealer and investment banking firm headquartered in New York City's Wall Street district. Emphasizing a client-centric approach to managing all aspects of its business, John Thomas Financial and its affiliates offer a full complement of retail brokerage, private wealth management, and corporate advisory services tailored to the unique needs of its clients. The firm publishes the Fiscal Liquidity Index, a unique daily indicator that looks at government spending and its impact on the financial markets, The Kaufman Report, a weekly technical stock market analysis, and The John Thomas Financial Economic Outlook, a report analyzing consumer sentiment, market outlook, credit cycles and dozens of other market influences.
Important Disclosures:
The information provided in this publication is for informational purposes only. Investors should consider this report as only a single factor in making their investment decision. This informational report is not an offer to sell or a solicitation to buy any security. This report has been prepared as a matter of general information. It is not intended to be a complete description of any company, and is not an offer to buy or sell any security. All facts and statistics are from sources believed to be reliable, but are not guaranteed as to accuracy. Before acting on the materials herein, you should consider whether it is suitable for you particular circumstances and, if necessary seek professional advice investments involve risk and an investor may incur losses. Past performance is no guarantee of future performance. Trading and investment decisions are the sole responsibility of the reader.