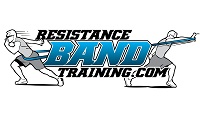 Elizabethtown, KY (PRWEB) April 15, 2013
This past weekend Resistance Band Training Systems founder and owner Dave Schmitz appeared among some of the fitness industry's most prominent names at the Elite Training Workshop in Frisco, Texas.
The Elite Training Workshop, held at Full Throttle Fitness/Fitness Revolution Frisco in Frisco, Texas, took place to great acclaim on Saturday, April 13. The event brought together personal trainers for the chance to learn how to train effectively and run a business from industry experts.
Functioning as a dual business building workshop and personal training skills acquisition seminar, the event featured five of the world's most highly respected personal trainers as they showed the attendees how to run a thriving business.
Among the presenters was Dave Schmitz, owner and founder of the resistance band exercise company Resistance Band Training Systems, LLC. Commonly known as the "Band Man," Schmitz regularly attends live events like the Elite Training Workshop to help teach other trainers how to successfully train clients with resistance bands.
"Dave Schmitz has an unrivaled passion for the unique art and science behind resistance training with bands," says CEO Pat Rigsby of the Fitness Consulting Group, the company organizing the event. "His speech Saturday was revelatory."
"It is this passion for resistance training and physical fitness that has driven Dave to become the preeminent trainer in his field," Rigsby continues. "He has a lot to teach everyone about how to use workout bands to craft a total body program for athletes and non-athletes alike."
Beginning his career as a physical therapist, Schmitz pursued training with resistance bands as his life's passion after seeing how exercise bands could be used to both help people rehab from injury and also take their athletic training to new heights.
"Resistance bands are such an attractive tool because they are safe to use, anyone can learn to do them, they reinforce proper exercise form, and they can be taken literally anywhere you might be inclined to do a workout," Schmitz explains.
Over the past decade, Schmitz has grown Resistance Band Training Systems into a hugely successful business founded on the principles of training with elastic exercise bands.
This past weekend, Schmitz took his knowledge of resistance bands to the Elite Training Workshop in Frisco, Texas. There he showed other personal trainers the ins and outs of training with resistance bands.
In addition to the coaching session held by Dave Schmitz, the event also featured presentations from Smart Group Training's Steve Long and Jared Woolever, elite bodybuilder and gym owner Tyler English, and renowned fitness professional Eric Cressey.
The event was held Saturday, April 13th in Frisco, Texas.
For more information on the Elite Training Workshop, visit http://elitetrainingworkshop.com
About Dave Schmitz: Dave Schmitz is the Co-Owner of Resistance Band Training Systems, LLC and the creator of http://www.resistancebandtraining.com, the only website exclusively devoted to training with large continuously looped resistance bands.
Resistance Band Training Systems, LLC is part of the Fitness Consulting Group family of companies. It is the leading resource for resistance band training. RBT offers education on resistance band training, hosts live events, and offers a training certification and other products.
To learn more about resistance bands, visit: http://resistancebandtraining.com/.