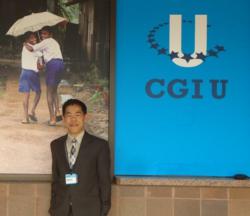 "I want to bring hope to those people and to the war-affected youths who are frustrated by the lack of opportunities in their village," says Rai.
Fulton, MO (PRWEB) April 17, 2013
Sahadev Yangmali Rai, a Westminster College junior from Kathmandu, Nepal, was selected as one of nine to be awarded major project funding out of competitive presentations from 600 groups representing 75 different countries and all 50 states at the Clinton Global Initiative University (CGI U) held April 5-7 at Washington University in St. Louis, MO.
Rai received $9,000 in seed money for his project to empower women who are the victims of civil war and poverty in Nepal.
"I am thrilled to start my venture and I want to thank the Clinton Global Initiative for this amazing opportunity and Westminster College for giving me the opportunity for this leadership role," says Rai. "The best part is that when Chelsea Clinton herself called me to tell me I had been awarded this initial funding, she emphasized that this was just the startup money and that more funding would be allocated as the project developed to help make it successful."
Rai's project will employ Nepalese women at the local level to produce cash crops that can be sold. The profits generated from their work will be invested in improving education and making a library and computer lab possible.
All of the other 600 proposals competing at this international meeting were submitted by groups. Rai was the only individual to make a submission.
This sixth meeting of the CGI U brought together more than 1,000 college students with innovators, thought leaders and civically engaged celebrities to make Commitments to Action to address the most pressing challenges facing their campuses and communities in areas such as education, environment and climate change, human rights, poverty alleviation and public health.
More than $400,000 in funding has been available for students to carry out their commitments, primarily through the newly established CGI University Network of 33 colleges and universities that have committed to support, mentor and provide seed funding to student innovators and entrepreneurs from their respective schools.
"The schools that have joined the CGI University Network are supporting student commitment-makers to create positive change across the globe," says former U.S. President Bill Clinton.
Now in its sixth year, CGI U brings together college students to address global challenges with practical, innovative solutions. Participants do more than simply discuss problems—they take concrete steps to solve them by creating action plans, building relationships, participating in hands-on workshops and following up with CGI U as they complete their projects.
Established in 2005 by President Bill Clinton, the Clinton Global Initiative (CGI) convenes global leaders to create and implement innovative solutions to the world's most pressing challenges. Annual meetings have brought together more than 150 heads of state, 20 Nobel Prize laureates and hundreds of leading CEOs, heads of foundations and NGOS, major philanthropists and members of the media. To date, CGI members have made more than 2,300 commitments which are already improving the lives of nearly 400 million people in more than 180 countries.
Founded in 1851, Westminster College is one of the top liberal arts colleges in America, according to all major educational ranking firms including U.S.News & World Report, Forbes magazine, The Princeton Review and Washington Monthly. This selective college for men and women operates on two campuses, one an 86-acre residential campus in Fulton, MO, and a second Southwestern urban campus in the vibrant downtown of Mesa, AZ. Westminster is a challenging academic environment where students are educated to lead and inspired to achieve.